Sponsored post Pop quiz time. How often do you need to wear sunscreen? Answer: every single day, regardless of how sunny (or cloudy) it looks outside…no matter the time of year! Not only does SPF prevent premature aging and wrinkles, it can also ward off skin cancer!
I must admit, I haven't always been the smartest about wearing sunscreen. Unless I was hitting the beach, I used to be one of those people who believed that SPF 15 in my makeup was enough to protect my skin. However, now I know this is a total myth.
The truth is that most of us know we should wear SPF daily, but still skip this must-do skincare step mainly because of a dislike for texture and feel of the sunscreen. Yes, it can be hard to get jazzed about applying the stuff if it's heavy, greasy and leave your skin feeling like an oil slick!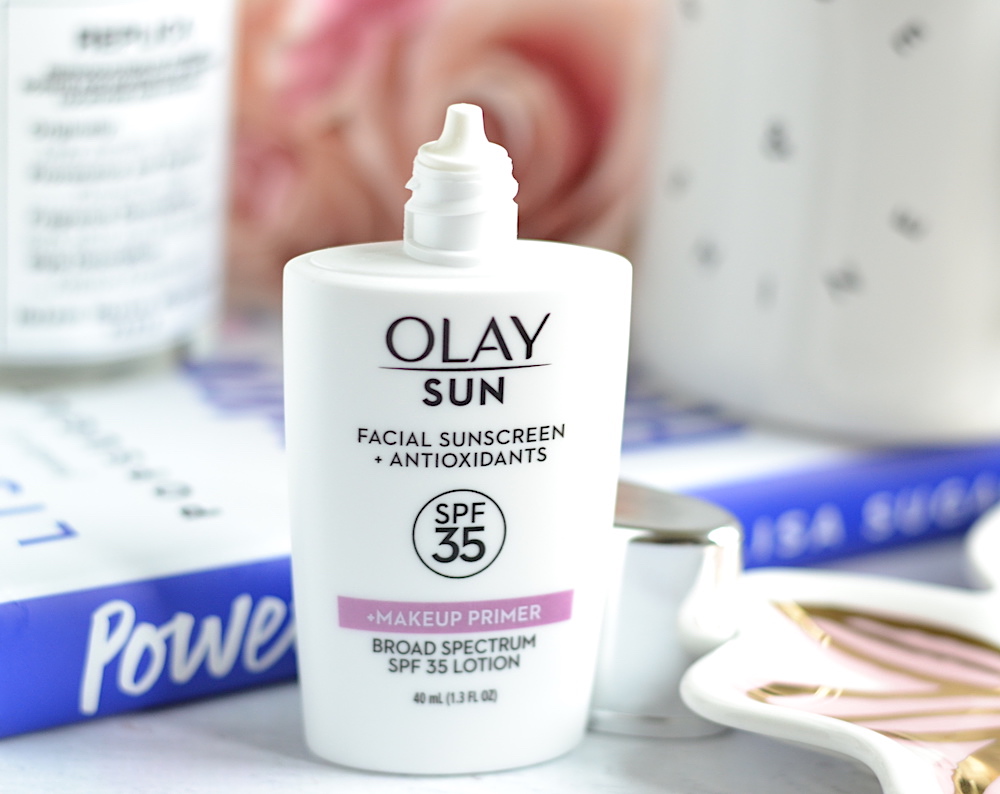 Thankfully, sunscreen has come a long way in recent years. Case in point: the new Olay Sun Face Sunscreen + Makeup Primer SPF 35 which feels so light that you're likely to look forward to applying it daily…like I did!
Olay Sun Face Sunscreen + Makeup Primer SPF 35 has a silky lotion-like texture that is a cinch to apply! It just glides over skin, feeling wonderfully light & smooth and not the least bit greasy or heavy. The formula absorbs super quickly and sets to a non-drying soft matte finish.
And I love how it does double duty as a foundation primer! It leaves my skin perfectly prepped for makeup with a smooth, shine-free base. My makeup goes on smoother and lasts longer…score!
If you have oily skin, you might not even need a moisturizer when using this product as it provides a light dose of moisture. As my skin is on the drier side, I definitely need more hydration.
But I am happy to report that Olay Sun SPF 35 pairs perfectly with my go-to daily moisturizer with a barely there feel. I think I might be able to skip a moisturizer with this when it's summertime and my skin is not so dry!
What's more, Olay Sun Face Sunscreen + Makeup Primer SPF 35 also contains antioxidants including niacinamide, green tea and vitamin E to help protect skin from free radicals caused by environmental stressors such as pollution. Not to mention, the oil-free formula is non-comedogenic (which means it won't clog pores!)
And most importantly, this sunscreen gets the job done: It kept me burn-free on my recent trip to Cancun which involved a lot of beach fun and pool-lounging in 95-degree weather.
Bottom line
True to its name, Olay Sun Face Sunscreen + Makeup Primer SPF 35 protects like a sunscreen, and perfects like a primer. Between the barely-there feel and oil-free matte finish formula, it's kind of like wearing nothing at all on your face! No more settling for a greasy, oily feel!
It delivers on all counts when it comes to being a top-notch facial sunscreen along with added antioxidant protection.
Get yours here if you want all of the sun protection, none of the frustration!
FTC: this post is sponsored by Olay