PR sample Covergirl TruBlend Super Stunner Hyper Glow Highlighter is another one of the latest launches by the brand. This highlighter is also a new addition to the TruBlend makeup collection along with the Covergirl Undercover Concealer that I reviewed last week (it's so amazing and affordable!)
Product Description
Don't be afraid to GLOW, girl! Covergirl TruBlend Super Stunner Hyper-Glow Highlighter is an intensely pigmented powder that goes on smooth and blends easily to create the perfect gleam.
Available in three luminous shades: 550 – Rose Quartz, 570 – Pearl Crush and 590 – Gilded Glory
The shades I have are Pearl Crush (570) and Gilded Glory (590)
Gilded Glory is a warm-toned, soft peachy highlighter (the kind of shades I'm typically drawn to!) It really suits my light-medium skin tone and adds a beautiful peachy glow, especially perfect for summer!
Pearl Crush is a champagne shade that's just as lovely.
These are shimmery powder highlighters with a buttery soft texture that applies and blends smoothly. The formula is also well-pigmented with a high sheen and a little goes a long way. True to its name, this is really a Hyper Glow highlighter!
You can use a light hand to get a soft glow (like I do) but if a blinding highlight is your thing, the formula is easily buildable without being too frosty. I love how it perks up my skin and as I said, you just need a little to get the job done. There is definitely a bit of fallout but not too messy!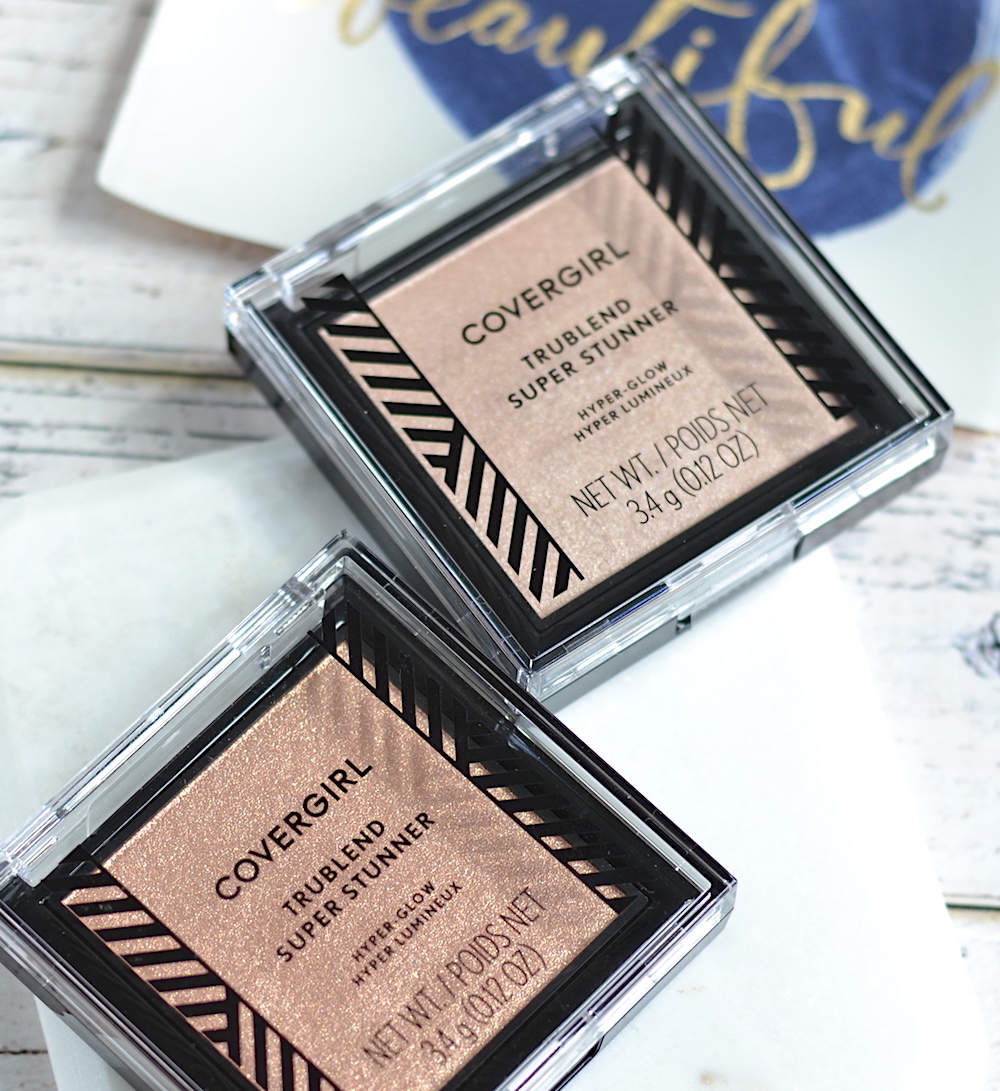 Both these shades have quite a bit of sparkle, so if you have fine lines and large pores like me you will need to take care not to go crazy with the highlight, but I'm definitely digging the formula and vibrant shades. And they hold up really well through the day without fading. Here are the swatches:
Bottom Line
Overall, color me impressed with the new Covergirl TruBlend Super Stunner Hyper Glow Highlighter! This is a great drugstore highlighter (although not perfect!) with a pigment packed formula that's smooth and easy-to-blend for a gorgeous glow.
Grab it at CVS, Walmart or Amazon.com for only $8.71 and get glowing!