Affiliate links Makeup Revolution has recently introduced a new range of budget-friendly skincare along the same lines as The Ordinary. It's called Revolution Skincare – the lineup features 15 high-performance products with prices as low as $7 and everything's under $14.
Infused with active ingredients in high concentrations, Revolution Skincare range is designed to tackle almost any skincare concern like hyperpigmentation, acne, large pores, dryness, fine lines and wrinkles.
The one product that caught my eye was Revolution Skincare 10% Niacinamide + 1% Zinc Blemish and Pore Refining Serum. I had been looking for a new Niacinamide serum so when I spotted this super affordable newbie on Ulta's website, I decided to give it a go.
Although it might not be as hyped as anti-aging actives like Vitamin C and Retinol, Niacinamide is one of the most exciting skin care ingredients around! Research has proved its multiple benefits for skin including reducing large pore size, improving uneven skin tone and texture, minimizing hyper-pigmentation from acne while also fighting fine lines and wrinkles.
And Niacinamide does all of the above without irritating the skin, which makes it suitable even for sensitive skin types!
Revolution Skincare 10% Niacinamide + 1% Zinc Blemish & Pore Refining Serum
Product Description
Revolution Skincare Blemish and Pore Refining Serum is a hero for oily, congested and blemish-prone skin. Using two skin-friendly ingredients, Niacinamide and Zinc, this lightweight and gentle serum helps to tackle blemishes and minimize the appearance of large pores.
In combination, these ingredients regulate the skin's natural oil production to help prevent further congestion, while Zinc has calming and soothing properties to help reduce the appearance of active blemishes.
Gentle enough for everyday use, this invisible oil-free formula can be applied in a thin layer under foundation and concealer to help tackle blemishes while you get on with your day.
How To Use
Shake well before use. Apply a few drops to clean, dry skin. Use morning and evening for best results.
Free from
Fragrance free, oil free, paraben free, alcohol free and gluten free. Cruelty free and vegan.
Ingredients:
Aqua/Water/EAU, Propanediol, Niacinamide, Zinc PCA, Glycerin, Butylene Glycol, Xanthan Gum, Sodium Benzoate, Potassium Sorbate, Disodium EDTA.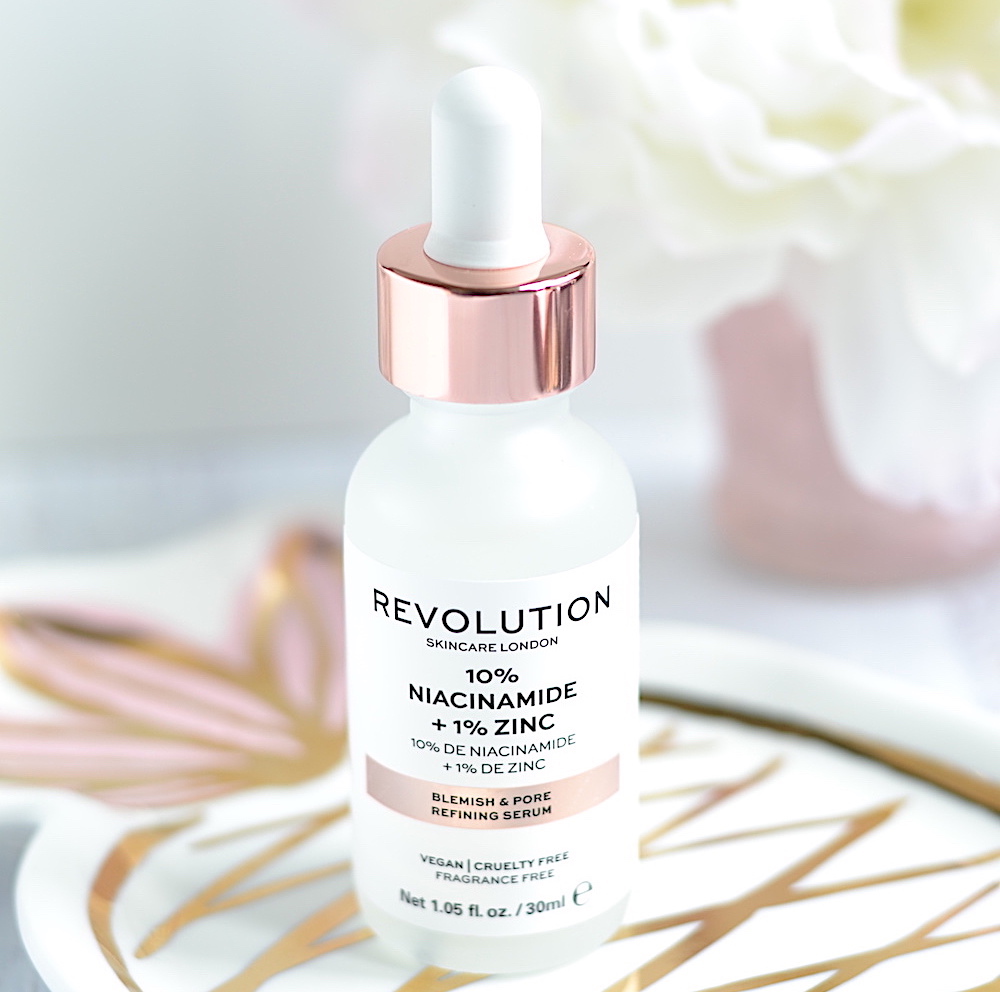 Revolution Skincare Blemish and Pore Refining Serum comes in a frosted glass bottle with a dropper dispenser that allows for easy application.
Texture-wise, the serum has a thin, water-light gel formula that goes on smoothly and absorbs pretty quickly. It's not at all sticky or greasy and doesn't leave skin with a tacky feeling.
It pairs well with other products and I really like that I don't have to wait much to apply my moisturizer on top. And it's fragrance free too which is always a plus!
Now let's talk about my results and the final verdict
As I have mentioned before, I have dry skin that's also acne-prone (so frustrating!!) and I have large pores mainly concentrated on my cheeks. Although this serum is geared more towards oily skin, I have found it to be a great addition to my skincare routine. I have been using it in my morning and night routine since last 3 weeks.
It has definitely helped improve my uneven skin tone and texture. My skin looks smoother and more even toned. Also, I have fewer dry, flaky patches and a few of my acne scars also seem to be fading away.
However, there hasn't been a noticeable difference yet in the appearance of my large pores. I feel like they look almost the same as before. That said, it has only been less than a month since I started using this serum. I will continue using it and give it at least 3 months to see if this serum can really work its magic on minimizing my pores.
Also, I am not sure how well it works on active acne because luckily I haven't had any breakouts in the last month or so.
Bottom Line
With a weightless water-like texture and non-tacky finish, Revolution Skincare Blemish and Pore Refining Serum 10% Niacinamide + 1% Zinc is a great product at a great price ($7 only!)
I really like the results I am getting from this high-strength Niacinamide serum in terms of improved skin tone and smoother texture. It has also been effective in brightening up my dull skin but I have yet to see a considerable difference in the appearance of my large pores.
I think it's a very good product overall, especially considering its affordability and versatile formula suitable for all skin types. It's budget skincare worth your bucks!
Revolution Skincare Blemish and Pore Refining Serum is available for purchase at Ulta Beauty and revolutionbeauty.com for $7.