Think you can skip sunscreen while working from home? Nope. Definitely not. While we're all practicing social distancing, SPF is still important!
"It's a common misconception that you don't need to wear sunscreen when you're indoors," says Joyce Park, a California-based board-certified dermatologist "Standard glass windows block UVB but not UVA rays, which can penetrate deeper into the skin than UVB rays and are the main contributing factor to premature aging — like dark spots, fine lines, hyper-pigmentation and rough textured skin."
If you're sitting near the window or in a room with lots of sunlight, you're still at risk for sun damage that causes aging and even skin cancer. So, you're not off the hook for wearing sunscreen even if you are inside!
With that said, now let's talk about the new First Aid Beauty Weightless Liquid Mineral Sunscreen SPF 30. It's described as a tinted mineral sunscreen with an ultra-light formula that protects skin from UVA/UVB rays and absorbs quickly with an invisible, non-greasy finish.
Packed with antioxidants like vitamin C, green tea extract, vitamin E and licorice root extract, it also defends against environmental aggressors and pollution that contribute to premature aging.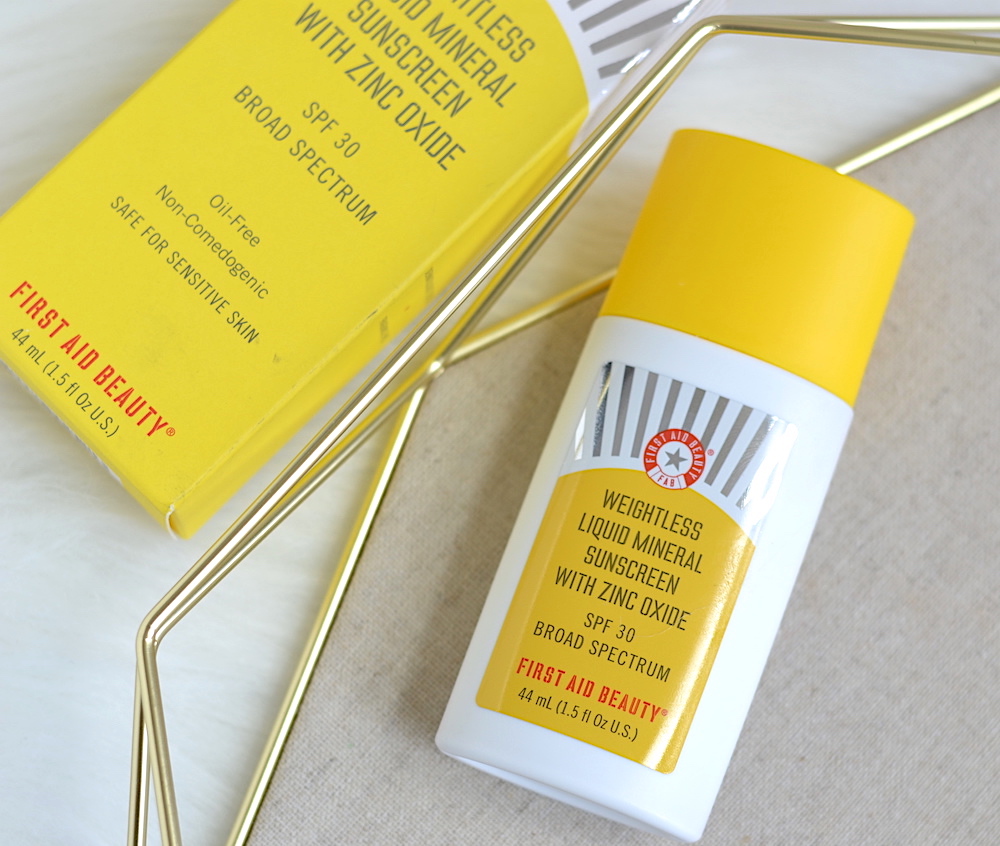 Highlighted Ingredients:
Alteromonas Ferment Filtrate: A botanical extract that helps protect skin against exposure to the elements and helps soothe and retain moisture in skin
FAB Antioxidant Booster: A blend of three botanical antioxidants, Licorice Root, Feverfew and White Tea, that helps stave off environmental aggressors
Vitamin E: A vitamin rich in antioxidants that helps condition and soothe skin and protect skin against free radicals
Zinc Oxide 16.8%: A nano-free physical sunscreen that helps filter harmful UV rays without irritating skin.
I knew First Aid Beauty Weightless Liquid Mineral Sunscreen SPF 30 would become a staple in my skincare routine, right after I used it for the first time!
Read on to get the full scoop…
First Aid Beauty Weightless Liquid Mineral Sunscreen SPF 30 has a super lightweight and silky, thin lotion-like texture that is a cinch to apply! It just glides over skin with a velvety-smooth feel that's not at all greasy, thick or tacky and also provides a light dose of moisture.
The tinted formula absorbs very quickly and blends in beautifully while leaving a sheer, natural finish that's neither matte nor dewy on my skin. Between the barely-there feel and sheer finish formula, it's kind of like wearing nothing at all on your face! How many SPF products can we say that about?
Even better, I love that First Aid Beauty Weightless Liquid Mineral SPF 30 also pulls off double duty as a foundation primer! It leaves my skin with a smooth, shine-free base and layers really well under makeup without pilling. This has been a great addition to my list of Best Sunscreens to Wear Under Makeup.
The sheer tint doesn't provide any coverage at all, but I love how it blends seamlessly with my light-to-medium skin tone and there's no white cast at all (despite a high percentage of zinc oxide in the formula) The tint is truly sheer and blends invisibly into skin so I think it would work well for all skin tones.
Not to mention, the oil-free formula is non-comedogenic (which means it won't clog pores!) and is also fragrance-free making it suitable even for sensitive skin types. Plus, it's vegan, cruelty-free, reef safe and free of any parabens and phthalates.
Bottom Line
If you are looking for a new facial sunscreen, I can't recommend First Aid Beauty Weightless Liquid Mineral SPF 30 enough! It's super lightweight, invisible on the skin and wears well under makeup— I mean, what more could you want? It really delivers on its promise to "make wearing sunscreen everyday easy."
Not only that, the featherlight fluid formula with antioxidants also fends off free radicals and is great for all skin types. This is a mineral sunscreen you're likely to look forward to applying it daily…like I did!
Get yours now! Available at Sephora, Ulta Beauty and Dermstore for $34