Affiliate links When it comes to die-hard skincare rules, wearing sunscreen daily is non-negotiable. And yet, despite its undisputed importance in a healthy skincare routine, many of us still don't bother with applying sunscreen every day.
NEW POST: The Best Drugstore Sunscreens to Wear Under Makeup 2022
One of the most common complaints and reason for skipping sunscreen is that it feels heavy/greasy or tacky and too shiny to wear under makeup, making skin look (and feel) like an oil slick. So, if you also haven't yet found a super-light sunscreen that wears well under makeup while providing broad-spectrum sun protection, you've come to the right place!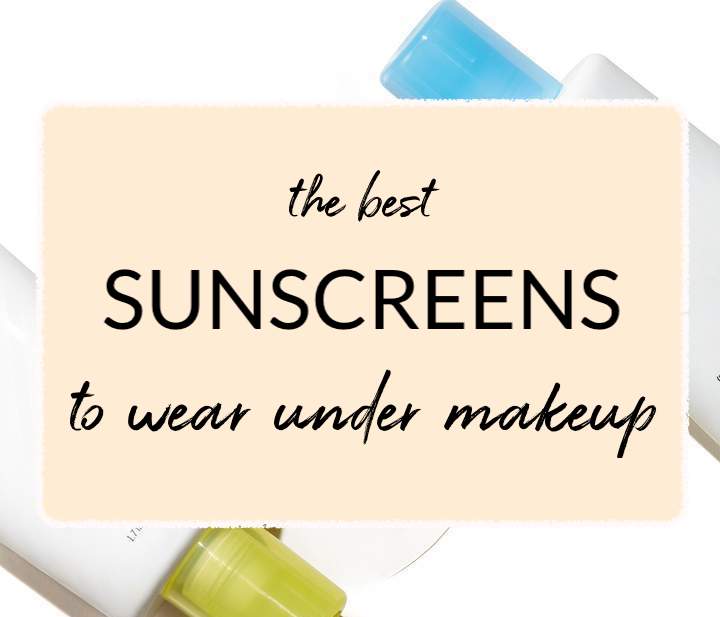 Below I have put together the ULTIMATE list of the best sunscreens to wear under makeup for every skin type. With an elegantly light feel and silky sheer finish, these sunscreens won't make your makeup settle into pores or fine lines. Even better, some of these sunscreens actually keep grease and shine in check while helping your makeup stay put! Powerful sun protection with perks…YES please!
And remember, the key to making your sunscreen play nicely with your makeup is to wait for your SPF to absorb completely before putting on foundation. Turns out makeup and SPF can be BFFs after all!
Best Sunscreens to Wear Under Makeup (For Every Skin Type)
1. Supergoop! Unseen Sunscreen Broad Spectrum SPF 40 ($32)
Perfect for ALL skin tones, this is a totally invisible, weightless, scentless, makeup-gripping primer with SPF 40. The oil-free formula has a completely clear matte finish suitable for all skin types (but especially great for oily and acne-prone skin!) and wears seamlessly under makeup. Infused with hydrating meadowfoam seed complex, it's mattifying but not drying plus it has red algae extract to defend skin against blue light emitted by electronic devices like laptops and smartphones.
2. Olay Sun Face Sunscreen + Makeup Primer SPF 35 ($16)
True to its name, this product protects like a sunscreen and perfectly preps like a primer. Between the barely-there feel and oil-free matte finish formula, this is one of the best drugstore sunscreens suitable for all skin types. It feels like nothing on skin, yet loaded with antioxidants Niacinamide, green tea and vitamin E for additional anti-aging benefits. Here's my full review.
3. EltaMD UV Elements Tinted SPF 44 ($34)
Infused with hydrating Hyaluronic acid, this oil-free sunscreen (with purely physical UV filters) has a lightly moisturizing formula that sets to a soft luminous finish. There's zero white cast, thanks to its sheer tint which works well for light to medium/tan skin tones (but might be a bit darker for very fair skin). Makeup applies super smoothly over this sunscreen and stays put. Best suited for normal to dry skin, it's fragrance-free and water resistant (40 minutes)
4. CeraVe Ultra-Light Moisturizing Lotion SPF 30 ($14)
Formulated specially for combination to oily skin, this drugstore moisturizer with SPF is truly lightweight and not the least bit greasy or shiny. Infused with ceramides, it moisturizes with a matte finish and blends seamlessly with no white cast. It's also great for acne-prone skin and wears well under makeup with no pilling.
5. Supergoop! Smooth & Poreless 100% Mineral Matte Screen SPF 40 ($38)
If you are a fan of pure mineral sunscreens, this one is sure to please! Perfect for normal/combination to dry skin, this ultra-light sunscreen has a blurring matte finish and wears well under makeup without balling or pilling. Its sheer tint masks mineral sunscreen actives (eliminating the white cast and flashback that's typical of most mineral SPF). Also, fragrance free and water-and sweat-resistant.
6. Coola Full Spectrum 360° Sun Silk Drops SPF 30 ($46)
Elegant and silky on your skin, this light-as-air formula not only protects skin from UVA/UVB rays but also infrared and blue light emitted from electronic devices. It's incredibly lightweight yet feels hydrating rather than greasy or sticky. It soaks in super quickly and layers beautifully under makeup. Great for all skin types, except for very oily skin.

7. Peter Thomas Roth Max Mineral Naked Broad Spectrum SPF 45 ($38)
I keep raving about this lightweight tinted moisturizer with SPF because it's the ultimate multi-tasker! Perfect for lazy girls, busy moms or foundation haters, it blends like a breeze for sheer coverage with a hydrated, healthy glow (not oily or shiny). I LOVE it for makeup-free days but it also wears well under makeup. Plus, its mineral-only high SPF with an antioxidant-rich formula makes it a serious skin protector!
8. Australian Gold Botanical Tinted Face Sunscreen SPF 50 ($11)
Another amazing & affordable option for oily and combination skin, this mineral sunscreen has a powdery-clean feel while its subtle tint (slightly cool toned) blends easily with a matte finish that stays matte! It layers nicely under makeup, blurs the appearance of pores and won't turn you into a greaseball by lunchtime. Also fragrance-free and water-resistant.
9. Milani Prime Protect SPF 30 Face Primer ($12.99)
Smoothing and lightly hydrating, this SPF-infused primer creates an even canvas for applying makeup and extends wear time too. It dries to a soft matte finish that's not at all tacky or chalky and works well for almost all skin types. Even better, it's fragrance-free and enriched with antioxidants.
10. Murad City Skin Age Defense Broad Spectrum SPF 50 ($68)
Another perfect pick for combination to dry skin, this is a pure mineral sunscreen without a greasy or chalky "sunscreen-y" look or feel! It has an ultra-light texture with a satin finish that works well under makeup and its color correcting sheer tint evens skin tone. Plus, the fragrance-free formula is loaded with antioxidants to fight free-radical damage.
11. Olay Total Effects Whip Broad Spectrum SPF 25 ($16)
This drugstore favorite anti-aging moisturizer with SPF goes on velvety smooth and feels feather-light. Truly sheer, it creates a super smooth, shine-free base with a soft matte finish, which makes it perfect to wear under makeup. Not only does it hydrate without a heavy feel but also brightens skin with continued use, thanks to vitamin C and Niacinamide!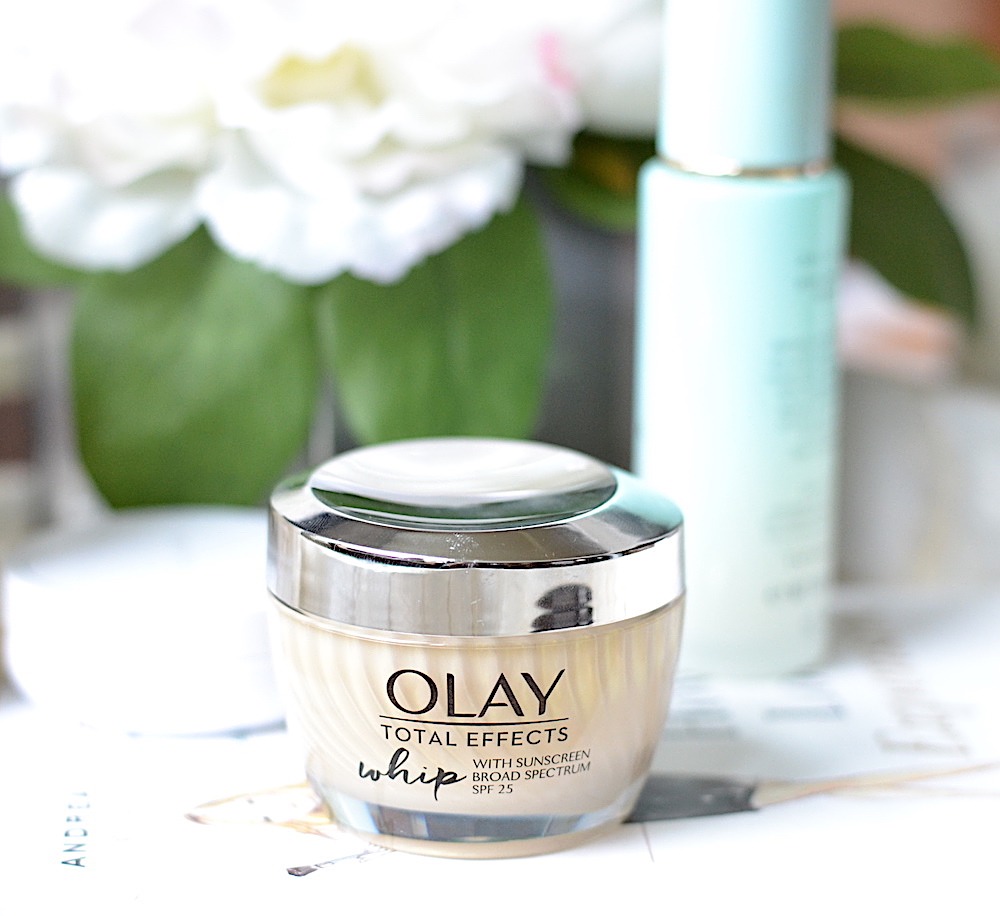 12. Paula's Choice Resist Super-Light Daily Wrinkle Defense SPF 30 ($33)
Perfect for oily and acne-prone skin, this oil-free, super light sunscreen sets to a complete matte finish (without being chalky) and pulls double duty as an oil-absorbing primer for makeup. Even with 13% zinc oxide, this mattifying sunscreen disappears into skin with zero white cast because of its sheer neutral tint that is totally invisible under makeup.
13. PCA Skin Sheer Tint Broad Spectrum SPF 45 ($48)
One of my long-time favorites, this is one of the best tinted sunscreens that sinks right in and feels exceptionally light, making it perfect for all skin types! Its sheer tint is truly universal and seamlessly blends into any skin tone, leaving skin perfectly prepped for makeup. Plus, the fragrance-free formula with purely mineral SPF is water-resistant for active lifestyles.
14. Paula's Choice Smoothing Primer Serum SPF 30 ($30)
With a clear gel formula suitable for any skin tone, this silky primer serum softly blurs large pores and evens skin texture for flawless makeup application. Along with broad-spectrum SPF, the primer is also packed with a bunch of soothing antioxidants for long-term skincare benefits! Suitable for most skin types (but not for super oily skin that needs a more mattifying formula)
Shop this post…