This post contains affiliate links.
When it comes to summer makeup must-haves, tinted moisturizer is always at the top of the list…and for good reason! It delivers sheer, buildable coverage while still letting your skin to breathe and shine through (and not feel smothered in the heat with a thick layer of makeup!)
Image credit: Ilia Beauty
Not only perfect for summer, tinted moisturizer is also the holy grail of the "no-makeup" makeup look all year round! Great for days when you want your skin to look smoother and a bit polished, without applying a full face of makeup. It blurs those blemishes and imperfections with a natural finish, making your skin tone look fresh and luminous.
Plus, you get a healthy dose of hydration along with skincare benefits like SPF, antioxidant protection and improving skin tone & texture. Just keep in mind that some of these tinted moisturizers don't contain SPF, so you'd need to pair it with a sunscreen during the day.
From Tarte to NYX, here are the best tinted moisturizers for a healthy glow with hydration and natural-looking coverage that meshes with skin rather than camouflaging it. All of of these tried-and-tested favorites are under $50, and the drugstore options are under $15!
ColourPop Pretty Fresh Hyaluronic Acid Tinted Moisturizer ($14)
Formulated with hydrating hyaluronic acid and coconut water, this lightweight oil-free tinted moisturizer offers light-medium coverage that evens skin tone for fresh, healthy-looking skin. Thanks to its natural skin-like finish, it's a great option for ALL skin types.
And it comes in an impressive shade range with 24 options from very fair to deep dark skin tones. Amazing product at an affordable price!
ILIA Super Serum Skin Tint SPF 40 ($46)
This oil-free skin tint not only evens out skin tone beautifully with light, dewy coverage but also offers great sun protection with mineral SPF 40 along with additional skincare benefits. It combines super active levels of hyaluronic acid, moisturizing squalane and skin-soothing Niacinamide to help improve and smooth skin texture.
Available in a range of 18 shades for fair to deep complexions, the sensitive-skin friendly formula is vegan, cruelty-free, fragrance-free. This one's a winner all around!
Tarte Maracuja Tinted Hydrator ($29)
This ultra-lightweight tinted moisturizer delivers sheer, buildable coverage that blurs imperfections and evens tone for a natural "your skin but better" look. Available in 20 shades, the fragrance-free formula blends easily leaving a satin finish that looks natural (isn't shiny or greasy at all) It's a great choice for all skin types, whether you have dry, oily or combination skin.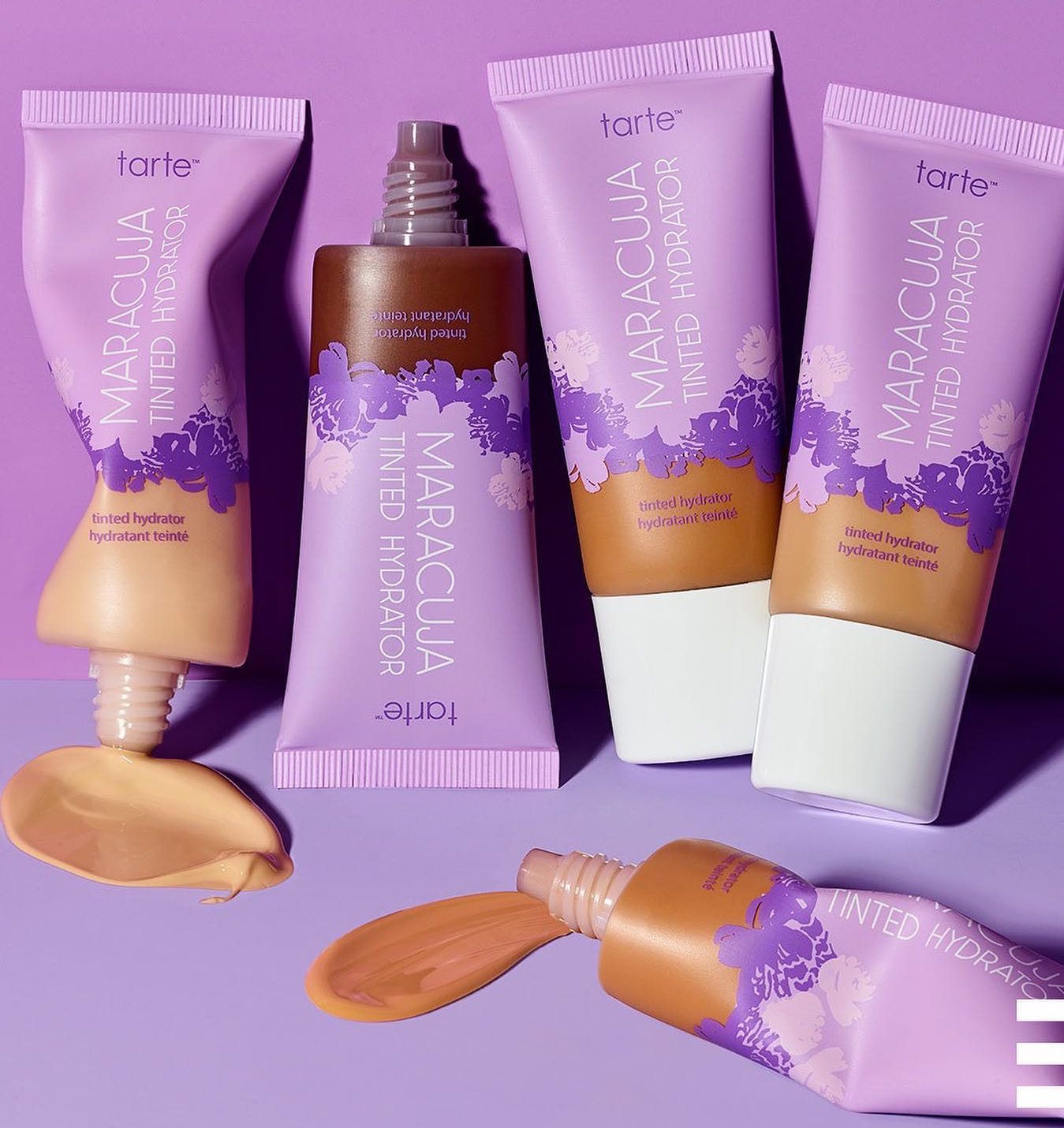 And that's not all! Infused with maracuja oil (rich in omega fatty acids), hyaluronic acid, vegan collagen, turmeric and aloe, it offers nicely balanced hydration without being heavy. Vegan and cruelty-free.
NYX Cosmetics Bare With Me Tinted Skin Veil ($13)
If you're craving just a hint more coverage without feeling weighed down, this lightweight tinted moisturizer is a real winner. It provides light coverage with a luminous finish to give you a fresh-faced, no makeup makeup look. Best for normal/dry and combination skin but it's also workable for oily skin with a little setting powder.
Available in 12 shades, the moisture-packed formula is infused with soothing and hydrating aloe and cucumber extracts. It's also vegan, cruelty-free and non-comedogenic, which is always a good thing!
Sephora Collection Matte Perfection Tinted Moisturizer ($18)
Great for combination to oily skin types, this oil-free soft matte finish tinted moisturizer provides sheer breathable coverage that is just enough to enhance and even out skin tone while minimizing redness.
Being fragrance-free, it is also suitable for sensitive skin. Due to the sheer pigments in this formula, the shade range (16 shades) works for a wide variety of skin tones.
Neutrogena Healthy Skin Radiant Tinted Moisturizer SPF 30 ($12.97)
This oil-free tinted moisturizer hydrates dull skin while offering breathable sheer coverage with a hint of shimmer for a subtle glow. You'll be left with dewy-smooth skin that feels hydrated! Plus, it's infused with vitamins A, C, and E and broad-spectrum SPF 30 for a flawless, healthy complexion.
Lightweight and comfortable, it has a natural radiant finish (not greasy) making it a good option for normal/dry and combination skin. This is also worth trying if you have acne-prone skin that's dry as well! The only drawback is that it's available in just 3 shades.
Revlon PhotoReady Candid Glow Moisture Glow Foundation ($10.99)
Although called a foundation, this is more like a lightweight tinted moisturizer with a creamy consistency that's a breeze to blend and feels moisturizing. The coverage is buildable from sheer to medium depending on how intensely you apply it. With its slightly dewy finish, the formula is best suited for normal-to-dry skin.
If you're all about a natural glow, this one is for you! The skin-enhancing formula is also infused with antioxidant-rich prickly-pear oil and vitamin E to help defend your skin against pollutants.
Burt's Bees Goodness Glows Tinted Moisturizer ($11)
As the name suggests, this tinted moisturizer provides beautifully sheer coverage with a soft dewy glow. With nourishing jojoba, acai oil, squalane, vitamin E and green tea extract, it packs enough hydration for dry skin.The lightweight coverage is just enough to even out and enhance (but not cover) your complexion with a non-greasy, natural finish that glows.
Best suited for normal/dry and combination skin, it comes in only 6 shades from fair to dark, but their sheerness makes it easy to adapt for a wide range of skin tones. This one is great for an everyday, glow-and-go look!
CoverGirl Clean Fresh Skin Milk ($9.97)
Another great drugstore tinted moisturizer under $10! Although said to have a glowing dewy finish, this has more of a satin matte finish that's best for normal to combination skin. Those with oily skin might not find this mattifying enough but it doesn't get overly shiny through the day either. With light coverage that's buildable, it does a good job of creating an even skin tone and blurring imperfections.
Available in 14 shades, the vegan formula is infused with hydrating coconut milk and aloe extract fo gives your skin a moisture boost. One catch: it does tend to cling to dry patches on my dry skin. Using a smoothing or hydrating primer first does solve the problem though!
KOSAS Tinted Face Oil ($42)
This tinted oil is a great pick for those who are simply looking for a little extra coverage and a lot of hydration! It's formulated with 6 nourishing antioxidant-rich botanical oils (including jojoba, avocado, rosehip, red raspberry, green tea seed and meadowfoam) to moisturize and soothe skin. The silky, serum-like formula feels more like skincare than makeup!
It just melts into skin and blends super easily with fingertips, providing sheer to light coverage that evens skin tone. No heavy feel, cakey look or tricky application. It has a natural satin-finish that still looks like your skin, but better! Available in 16 shades, it's vegan, fragrance-free and cruelty-free.
Clinique Moisture Surge Sheertint Hydrator SPF 25 ($39)
For skin that needs a hefty dose of hydration, this oil-free tinted moisturizer with SPF packs a punch! Formulated with hydrating hyaluronic acid and activated aloe water, the lightweight creamy tint blends in really easily with a natural luminous finish.
It provides sheer to light coverage that covers up any redness and blurs blemishes for a smooth and even skin tone. The sweat-and humidity-resistant formula comes in 7 shades, which are adaptable across a wide range of skin tones due to their sheerness.
florence by mills Like a Light Skin Tint ($18)
This tinted moisturizer goes on creamy and blends beautifully to blur imperfections for an even skin tone and texture. Build up the coverage or keep it sheer–you choose! It dries down to a satin-like dewy finish that adds a healthy glow, without being shiny or greasy. My full review here.
It's formulated with a host of natural ingredients including squalene, jojoba and meadowfoam seed oil to keep skin feeling hydrated through the day. The dewiness can be a bit too much for oily skin, but great for normal to dry skin types. Vegan, cruelty-free and synthetic fragrance-free.
Shop this post…