PR samples Kerastase Curl Manifesto is a new haircare collection designed for wavy, curly and coily strands. Formulated with curl-enhancing ingredients including Manuka Honey, Ceramide and Glycerin, this new range is all about providing the perfect combination of hydration, strength and definition for smooth, manageable curls.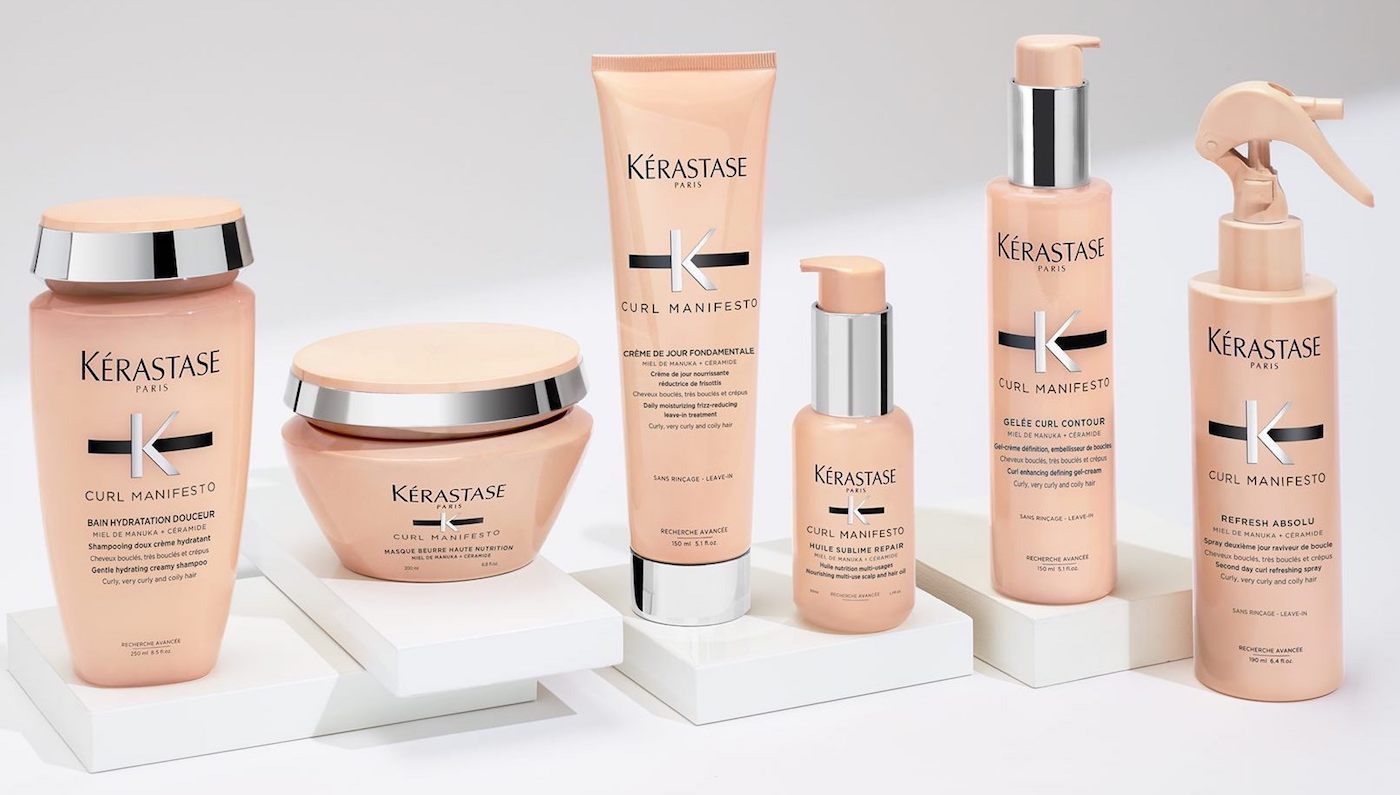 Curly hair is the most demanding hair type, sebum at the scalp doesn't migrate from roots to tips so hair is often dry. Also, curly strands usually have to deal with frizziness, tangling and brittleness or breakage so they always need some extra TLC.
Kerastase Curl Manifesto collection addresses these pain points and cater to the unique needs of all curls and coils. These products are specifically formulated to banish dryness and tangles, fight frizz and nourish curls to leave them soft and bouncy
For reference, my hair is Type 2C wavy/curly and is quite thick, coarse, highly prone to frizz and hard to style.
Key ingredients
All products in the Kerastase Curl Manifesto collection are formulated with:
Manuka Honey – Manuka Honey sourced from New Zealand, ultra rich in minerals and nutrients. Intensely hydrates and restore shine to dry curls.
Cementing Ceramide – Helps restore softness, smoothness and strength. Also protects against breakage.
The entire Curl Manifesto range of hair products is beautifully fragranced for a luxurious, sensorial experience! It's a warm floral fragrance with top notes of frangipani flower and jasmine petal; middle notes of tuberose petals, freesia and tiare; and base notes of white musk bouquet and honey. Such an elegant, cozy scent!
Now let's take a look at each product…
Kerastase Curl Manifesto Bain Hydration Douceur Shampoo ($35)
This is a hydrating creamy sulfate-free shampoo that gently cleanses scalp and hair to remove all residue and buildup, without stripping hair of natural oils.
I use only sulfate-free shampoos and this one is great! The creamy formula is truly gentle and lives up to its claims. It lathers well and rinses out easily without leaving my hair feeling dried out or stripped. And a little goes a long way!
Kerastase Curl Manifesto Fondant Hydratation Essentielle Conditioner ($42)
This is a lightweight conditioner that moisturizes, smooths and helps detangle knots. The formula is truly lightweight and doesn't weigh down hair. You just need to leave it on for 3-5 minutes and then rinse.
Kerastase Curl Manifesto Masque Beurre Haute Nutrition ($62)
This is an extra-rich mask that deeply nourishes, smooths and strengthens curls, while also helping to detangle hair with ease (meaning less chance of breakage).
Packed with the goodness of Manuka Honey, ceramides and glycerin, the formula is a pampering treatment for all types of curly hair, and adds intense hydration plus shine.
I apply the mask generously to my damp hair and just leave it on for 5 minutes before rinsing, and it gets the job done! However, Kerastase suggests you can also leave it on for longer up to 30 minutes (very curly or coily hair) and then rinse hair thoroughly.
I love its rich, lavishly creamy formula that adds so much softness to my hair without leaving them feeling greasy or looking flat. It leaves my curls feeling silky-smooth and bouncy and smelling oh-so-good!
Kérastase Curl Manifesto Crème de Jour Fondamentale Leave-in Treatment ($39)
This is a moisturizing leave-in cream that hydrates and leave curls more defined while providing frizz control. It also offers heat protection up to 450° F.
The best way to use this leave-in is on wet, towel-dried hair (after shampoo and conditioning) applying evenly from roots to ends. Gently scrunch sections of hair to encourage curl pattern formation, and then air dry or heat style.
Honestly, I was not wowed by this leave-in cream. It's not as smoothing as I like my leave-in treatment formulas to be, but I guess that's maybe because this one does not contain silicones (which are usually responsible for that silky-smoothness and slip!) So I guess you can say I prefer a silicone-based product. Also, it does tackle frizz but not the best at it! (My all-time favorite for taming frizz is Kérastase Elixir Ultime Oil Serum!)
And it's worth a mention that if I apply this product a bit more generously, it tends to leave a residue-feeling on my hair which I don't like.
Kérastase Curl Manifesto Huile Sublime Repair Hair & Scalp Oil ($51)
This is a nourishing hair oil for curls and coils that strengthens to reduce breakage, smooths hair and reduces frizz without being greasy.
Alongside the hero ingredients Manuka honey and Ceramides, it also contains jojoba, olive, sunflower and coconut oils to deeply moisturize and enhance shine. Also, it's free of silicones.
The multi-use hair and scalp oil can be used in three different ways. First, as a pre-shampoo hair treatment to hydrate and detangle: gently work the oil through dry hair and wait for at least 5 minutes before washing hair.
It can also be used to condition the scalp. Part your hair into sections and massage the oil on the scalp. And lastly, you can use it as a leave-in to lock in smoothness, apply 1-2 pumps on wet or dry hair after shampoo and conditioner.
My favorite way to use this oil is massaging on my scalp and strands as a nourishing treatment…I like to do this overnight and then wash off in the morning.
Kérastase Curl Manifesto Gelée Curl Contour Gel-Cream ($39)
This is a lightweight gel-cream that hydrates like a cream with the hold of a hair gel, enhancing curl definition with softness and no crunch.
This gel cream is suggested to be applied to wet hair (after shampooing and conditioning) to enhance the natural curl shape. Take 2 to 4 pumps, depending on the length and thickness of hair. Scrunch and gently define curls using your fingers.
This cream provides light hold to my curls which lasts only about 2 days. I like that it adds definition while being lightly hydrating and doesn't leave my hair feeling stiff or crunchy.
Kerastase Curl Manifesto Refresh Absolu Redefining & Restyling Spray ($40)
This is a second day curl refreshing spray that instantly re-hydrates and re-defines curls and coils in between washes while reducing frizz. It re-activates curls promoting a natural pattern formation, and also enhances bounce and shine. Simply mist through dry hair, focusing on middle lenghts and ends to revitalize curls!
The lightweight mist does a good job to revive my curls (days after the shampoo) without weighing them down, adds a light dose of moisture and smells nice too. It's a good product that helps to limit any unnecessary hair washing.
You can find the complete Kerastase Curl Manifesto collection at Sephora.com and kerastase-usa.com
Shop this post….