Affiliate links Hello friends! Hope your New Year is off to a great start! Today I've a roundup of my favorite beauty products of 2021, from drugstore to high-end. The ones I loved (and used) the most and couldn't get enough of!
Most of these new found favorites were released in 2021, however some products have been around for a while, but I discovered them last year. So, keep reading to find out my most-used beauty products of 2021. Maybe you'll find your new holy grail sunscreen or serum here too!
Best Beauty Products 2021
Let's start with skincare….
Drunk Elephant Protini Power Peptide Resurf Serum
This exfoliating serum works to improve skin texture and tone, sun damage/discoloration and give an overall glow with 10% lactic acid and an ultra-concentrated blend of 11 peptides.
This serum has a very lightweight texture that absorbs quickly into the skin. I use it at night and love how it leaves my skin feeling soft and smooth with a natural glow in the morning. And I didn't experience any irritation, sensitivity or tingling with it. If you are looking for a gentle lactic acid based exfoliating serum, I highly recommend this one! Full review here.
Sukin Sheer Touch Tinted Mineral Sunscreen SPF 30 ($16)
Formulated with 21.5% Zinc Oxide, this is an excellent (and affordable!) tinted mineral sunscreen that's very lightweight, and blends easily with a natural matte finish and NO white cast. It doesn't feel thick, heavy or greasy and wears nicely under makeup. It's tinted but sheer, so there's no coverage. Full review here.
CeraVe Hydrating Cream-to-Foam Cleanser ($16)
Infused with Ceramides and hydrating Hyaluronic acid, this is a gentle, creamy foaming cleanser that effectively removes dirt and makeup without stripping the skin's natural moisture. It leaves my skin clean & refreshed, not at all dry or tight.
The Inkey List 15% Vitamin C Serum ($14.99)
This brightening serum combines highly stable 15% Vitamin C and plant-derived EGF to deliver a potent dose of actives that help brighten dull, stressed-out skin. The fragrance-free formula has a super lightweight liquid texture that absorbs instantly without any tacky or sticky feel and layers easily under moisturizer and makeup.
I Dew Care Plush Party Buttery Vitamin C Lip Mask ($16)
This is such a beautifully nourishing lip mask that's perfect to give your lips a little TLC everyday! Infused with antioxidant-rich cocoa butter plus vitamin C and vitamin E, the formula is rich and soothing with a slight citrusy scent. I love using it as an overnight lip treatment for a healthy dose of hydration.
The Inkey List Succinic Acid Acne Treatment ($8.99)
Formulated with 2% Succinic Acid, 2% sulfur powder and 1% salicylic acid, this targeted acne spot treatment helps clear breakeouts faster while being gentle and non-drying. It really does speed up the healing process and reduce the size of pimples (and redness) within two days, without leaving my skin looking dry, flaky or irritated. Not to mention, it's super affordable for only $9 at Sephora.
Paula's Choice 20% Niacinamide Treatment ($50)
This is a highly concentrated Niacinamide (20%) serum that is designed to tighten & minimize the look of large pores, improve uneven/blotchy skin tone and smooth out rough skin texture. It also contains antioxidant-rich purslane, green tea, Vitamin C and licorice extract to boost the skin brightening benefits.
The formula has a fluid-gel texture with a lightweight feel and absorbs easily. I started using this towards the end of the year, and while I haven't yet noticed a dramatic difference in the look of my noticeably large pores, I have definitely seen an improvement in my skin tone and texture.
AxisY New Skin Resolution Gel Mask ($21.49)
This is one of the most soothing masks I've tried. It contains Heartleaf that repairs and soothes irritated skin (troubled by acne or inflammation) while 2% Niacinamide improves dull, uneven skin tone.
The formula has real Heartleaf leaves in it which makes it satisfying to look at, and even more satisfying to use. It feels so soothing, refreshing and slightly cooling on my skin. This mask is especially great for acne-prone, irritated and stressed skin!
C'est Moi Sunshine Mineral Sunscreen Lotion SPF 45 ($19)
This is a fantastic mineral sunscreen for body! With 19% Zinc Oxide as the active ingredient, it has a moisturizing formula that's water resistant (40 minutes). It has a slightly thick texture but absorbs easily and hydrating without a greasy or heavy feel.
COSRX Advanced Snail 96 Mucin Power Essence ($20)
This is a highly-concentrated essence with 96% snail mucin that helps to nourish, soothe and plump skin with moisture. Yes, it contains filtered snail mucin but the formula isn't slimy or gooey. The texture is slightly sticky but the formula is lightweight and doesn't feel heavy or tacky on the skin. It absorbs easily and provides long-lasting hydration without leaving a greasy residue.
I like to use it after cleansing & toning and then use my moisturizer on top. Not only is it quite effective for hydrating dry, dehydrated skin but also works well to heal and soothe inflamed or irritated skin.
MAKEUP
Saie Slip Tint Dewy Tinted Moisturizer SPF 35 ($32)
This tinted moisturizer gives me great light to medium coverage and hydration without feeling heavy, blends effortlessly with fingers AND adds a dewy glow to my dull, dry skin…what more do I need?
Oh wait, it has broad spectrum SPF 35 (with 15% Zinc Oxide) too plus a bunch of skin-loving ingredients including Hyaluronic acid, licorice root extract, grape seed oil, argan oil and vitamin E. Such a fabulous find!
Laura Mercier RoseGlow Caviar Sticks ($29)
These creamy eyeshadow sticks in rosy-neutral shades with a luminous finish are gorgeous! They are creamy, lightweight, well-pigmented and glide on smoothly. Love that they are so easy-to-use and the color lasts all day long without creasing. These are perfect for a one-and-done eyeshadow look!
L'Oreal Paris Colour Riche Les Nus Intense Lipstick ($6)
With their pretty rose gold packaging and creamy-smooth formula that's well-pigmented and long-lasting, these nude-toned lipsticks have a luxe feel at an affordable price point! Full review and swatches here.
Touch in Sol No Poreblem Primer ($18)
I finally tried this popular primer and now I can say it's worth the hype! It has a silky texture that just glides on my skin providing a perfectly smooth canvas for makeup with a natural satin finish. It does a pretty good job of blurring my large pores and most importantly, it helps my makeup stay put longer.
I have dry skin so I also appreciate that it's slightly moisturizing (unlike many pore-blurring primers that feel too matte or dry on the skin.) This primer is also available at Amazon.com
Charlotte Tilbury Matte Revolution Lipstick in Walk of No Shame ($34)
This beautiful berry-rose shade has become my most worn lipstick ever since I bought it a couple of months ago! The formula is so creamy and feels velvety going on the lips. And I love its satin matte finish that's comfortable, lightweight and long-lasting.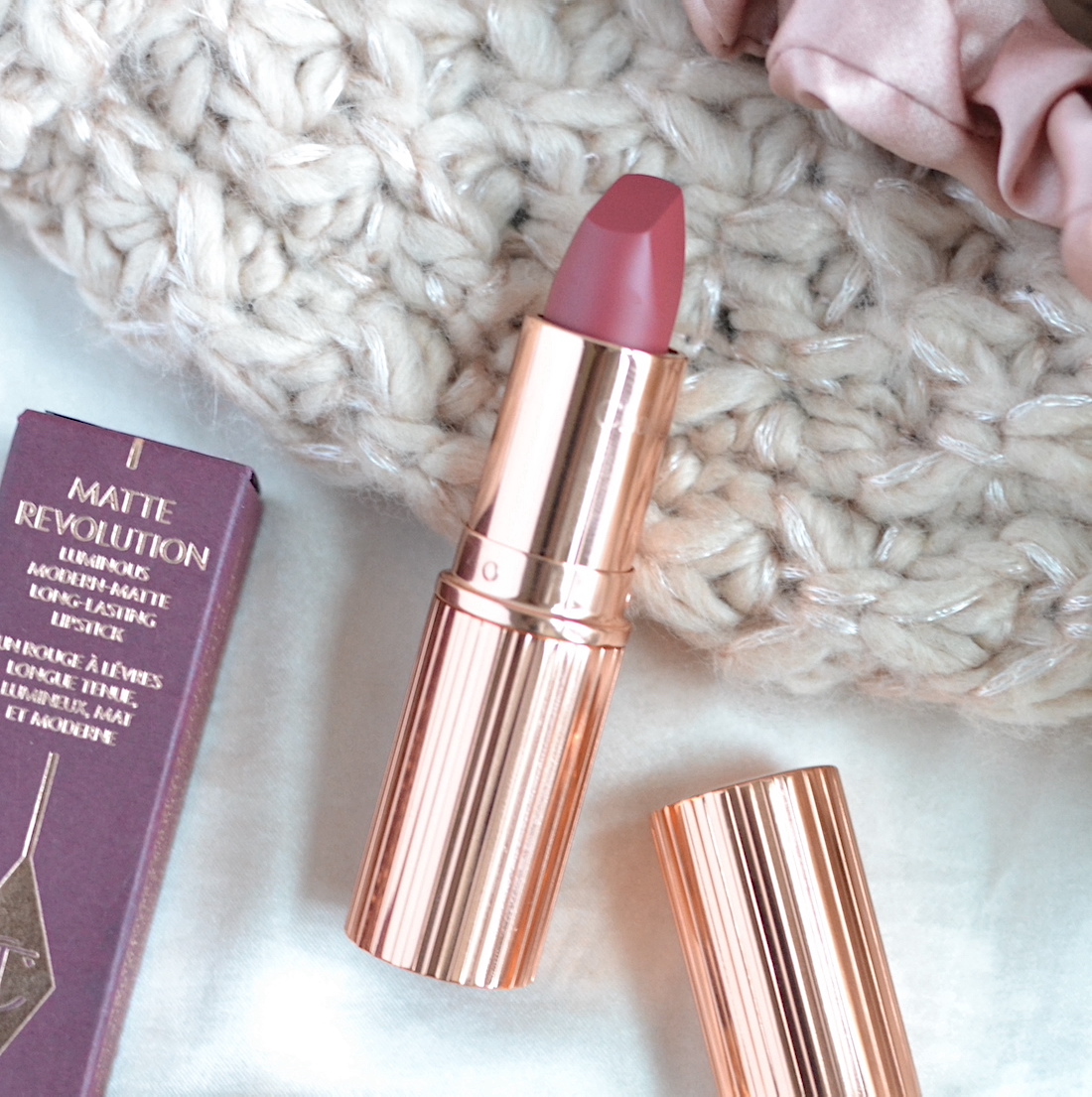 L'Oreal Brilliant Signature Shiny Lip Stains ($9.97)
From their lightweight moisturizing texture to the pigment-packed glossy finish formula (not sticky) that wears well, I love everything about these lippies. They really are a great combination of a lip gloss and lip stain (minus the dryness!) Full review and swatches here.
So, these are my top beauty picks from last year!
What were your favorite beauty products of 2021? I'd love to hear about things you've been loving lately!
Shop this post…