I received these products complimentary from Influenster for testing purposes. All thoughts and opinions are my own.
Neutrogena Rapid Tone Repair Vitamin C Serum is a new high potency face serum formulated with 20% pure Vitamin C (L-ascorbic acid) to visibly reduce the look of dark spots and early signs of skin aging for an even-toned and luminous complexion.
Oil-free and non-comedogenic (won't clog pores), this new brightening serum comes in biodegradable seaweed-derived capsules to preserve the freshness and potency of pure Vitamin C.
As you know, I love finding affordable drugstore skincare options so I was excited to receive the new Neutrogena Vitamin C Serum capsules in my latest Vobxox from Influenster.
Packed with a potent dose of 20% pure vitamin C, Neutrogena Rapid Tone Repair Vitamin C Serum is clinically proven over time to fade the look of dark spots and smooth skin texture, and to minimize the appearance of fine lines and wrinkles.
In addition to concentrated Vitamin C, the formula also contains antioxidant-rich Rubus Idaeus (Raspberry) Leaf Extract and Vitamin E. Designed to be suitable for all skin types, this vitamin C serum is free of any parabens, preservatives, alcohol, fragrance and dyes.
So now let's get down to the nitty-gritty and find out if the new Neutrogena Vitamin C Serum capsules are a hit or miss!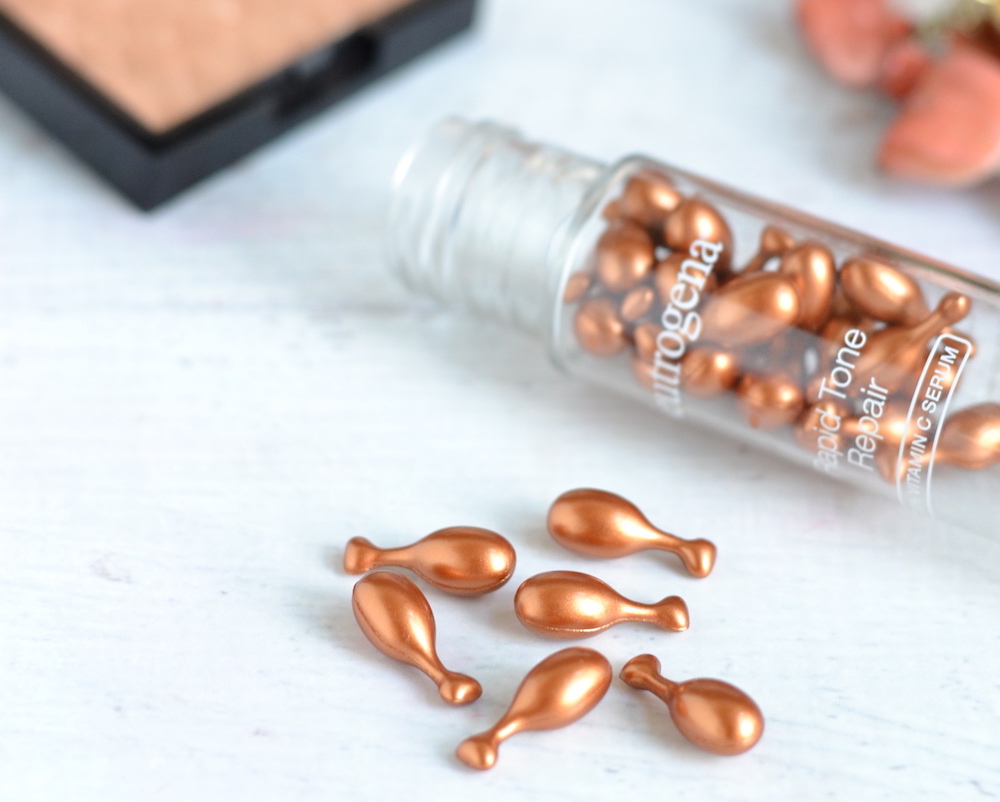 First off, the packaging: this serum comes in convenient single-use capsules (30 count) that ensures you get fresh, maximum potency Vitamin C for each application.
Vitamin C serums can oxidize and degrade quickly after opening, but the capsule protects its star ingredient from exposure to light and air. To use, just twist and pull off the capsule tip to release the serum. Then squeeze and apply once daily after cleansing and before applying moisturizer.
Neutrogena Vitamin C Serum also wins major points for its texture. It has a silky, super-lightweight formula that applies very smoothly and absorbs quickly. No tacky, greasy or sticky feel, NO fragrance and it layers well under other products…this is good stuff!
I like to use this vitamin C serum under my moisturizer with SPF every morning to add a second line of defense against UV damage – antioxidants (like vitamin C and E) counteract the unwanted free radicals generated by UV light and help sunscreen work better.
I've been using this serum daily for two weeks now and really impressed with it as my skin looks brighter and feels smoother. I think this serum will definitely improve my uneven skin tone and diminish dark spots with continued use over the next few months, thanks to its concentrated dose of vitamin C!
The bottom line is that Neutrogena Rapid Tone Repair 20% Vitamin C serum capsules tick all the right boxes in terms of texture, formula, packaging and affordable price point. It is undoubtedly one of the Best Drugstore Vitamin C Serums for dark spots and dull/uneven skin tone that really works (while being gentle and non-irritating!)
Available at Amazon.com for $34.99
I have also been trying the new Neutrogena Rapid Tone Repair Correcting Cream that's designed to moisturize, plump and brighten skin.
Formulated with Vitamin C, Retinol, Hyaluronic Acid and Glucose Complex, this daily brightening cream is clinically proven to help reduce the look of even the most stubborn dark spots, discoloration and blotchiness while smoothing the appearance of fine lines and even deep wrinkles.
This is a rich moisturizing cream with a deeply hydrating formula that leaves my skin feeling smooth & supple. It has a rich, lush texture but not greasy and a little goes a long way!
As someone with dry skin, I typically love this kind of ultra-moisturizing face cream but sadly this one has a downside.
The formula is highly fragranced and it tends to linger on skin. Honestly, I don't mind subtle fragrance in my skincare products but this cream's scent is a bit too strong for my liking.
Also, this cream comes in a jar packaging which means that the light-and air-sensitive ingredients like retinol and vitamin C won't remain stable for long once the jar has been opened and likely become less effective. So overall, Neutrogena Rapid Tone Repair Correcting Cream is a miss for me. It's available at Amazon.com for $34.90