New for the holiday season, Omorovicza Blissful Treatment Oils is a set of three aromatic and deeply hydrating body oils designed to keep your skin smooth and moisturized even through the dry winter season.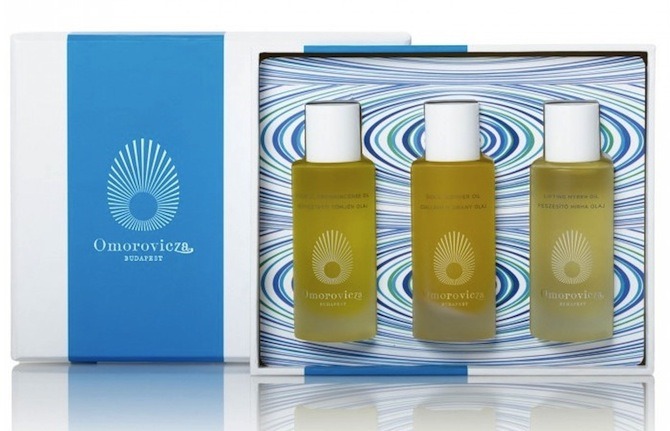 Product description
This holiday season, we were inspired by Ancient Times to assemble a festive trio of three exquisite oils: Gold Shimmer Oil, Blissful Frankincense Oil and our latest Lifting Myrrh Oil.
Gold Shimmer Body Oil
This aromatic oil makes the body shimmer with gold particles and leaves it soft and smooth. Gold, a powerful anti-inflammatory, heals accumulated micro-damage and strengthens the skin. Calendula Oil lends an additional repairing effect to this product.
Blissful Frankincense Oil
Softly addictive, this Blissful Frankincense Oil blends frankincense, bergamot and calendula oils to soothe the senses and soften the skin. Revered for centuries for its anti-aging properties, Frankincense oil tones and firms the skin.
Lifting Myrrh Oil
Scented with pure rose oil, this Lifting Myrrh Oil softens and plumps dehydrated skin. Arabian Myrrh plumps the skin and Abyssinian Oil strengthens and restores suppleness to it. Vitamin C brightens corrects the complexion and brightens tone.

Gold Shimmer Oil – Thanks to the light reflecting gold particles, this oil makes your skin look as good as it feels! In addition to the anti-inflammatory gold, it also boasts of skin-softening and antioxidant-rich apricot kernel oil, carrot oil and rice germ oil.
The nourishing formula absorbs quickly and leaves skin silky-smooth and luminous. It just lends a subtle glow to your skin (no tacky shimmer here!) that's perfect for the festive party season and for those occasions when you're looking for an added sparkle! Rub it in right after showering when skin is slightly damp for best results. It has the same exquisitely divine scent as Omorovicza's Gold Sugar Scrub (amazing stuff!) that I reviewed a while back.

Blissful Frankincense Oil – This is a unique blend of exotic oils combined with the anti-aging properties of frankincense and added benefit of calendula and jojoba oil which work to nourish and rehydrate skin. Rich in Omega 3 fatty acids, Sacha Inci and Pink Pepper Oils restore suppleness, elasticity and skin tone by boosting lipid content. The oil has an invigorating spicy (peppery) scent that's quite nice! It's great for use as a body serum to rejuvenate your skin…just apply a small amount to body, massaging well using circular motions.
Lifting Myrrh Oil – The inclusion of Abyssinian Oil improves the skin's barrier function protecting against moisture loss while Arabian Myrrh helps to plump skin. Beautifully scented with pure rose oil, the luxuriously hydrating formula is ideal for the neck and decollete.

Bottom Line
Omorovicza Blissful Treatment Oils set has been a welcome addition to my skincare arsenal as these body oils provide a much needed moisture surge for dry winter skin while giving it a glorious glow! This ultra-luxe gift set is a great choice even for the beauty gal who (seemingly) has everything.
Omorovicza Blissful Treatment Oils retails for $85 and is available at Omorovicza.com
Disclosure: This review features a sample product sent for consideration by PR and reflects my honest opinion as always!