Acne breakouts or wrinkles can be challenging enough when you're struggling only with one or the other. But when you've to deal with both acne and wrinkles at the same time, it's double trouble for the skin. I am thirty-three. Still, I break out. I don't have wrinkles yet, but I have begun to see fine lines and dark spots. How do you fight both the problems at once without making your face feel either dry or flaky, which makes fine lines look worse, or too rich and creamy, which makes acne and blackheads worse? So frustrating and confusing, right?
Enter the new Hydropeptide Anti-Wrinkle + Clarify Collection that includes 4 products designed to help fight acne while minimizing the appearance of fine lines, wrinkles and age spots.
Purifying Cleanser ($54) – Formulated with a combination of clarifying Peptides, exfoliating Salicylic + Mandelic Acid (an AHA derived from almonds with antibacterial properties) and Tea Tree Oil, this purifying cleanser draws out impurities while antioxidant-rich boswellia, chamomile and honey soothe and protect skin from over-dryness and irritation. It has a light creamy consistency and does a great job of removing dirt, makeup and other impurities, leaving skin thoroughly clean and refreshed without any signs of dryness. It also works well as a skin clearing treatment mask – apply a tsp of it and leave on for 10 minutes!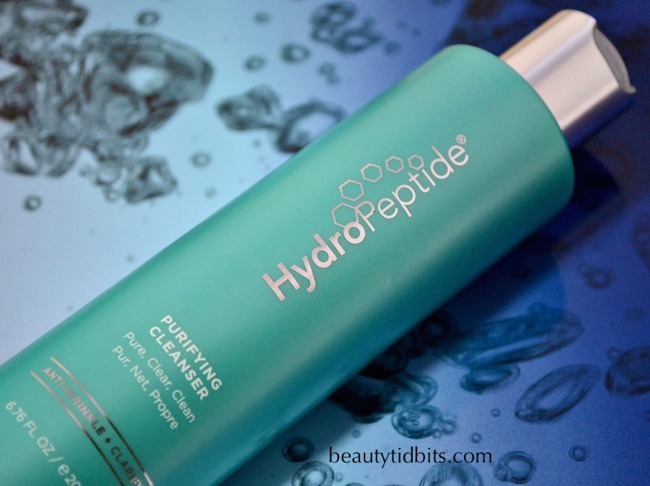 Redefining Serum Ultra Sheer Clearing Treatment ($130) – Anti-Redness + Clarifying + Anti-Wrinkle Peptides. This anti-aging ultra-sheer serum is designed to promote a healthy spot-free complexion, improve skin tone and minimize the appearance of fine lines and wrinkles.
It features 6 peptides including a Clearing Peptide, Retinoic-Like Peptide, Radiance Peptide, Anti-Redness, Protective Peptide (ability to reduce glycation thus protecting skin proteins i.e collagen, elastin and protects against UV induced damage) and also Seabuckthorn berry that's rich in essential fatty acids great for softening and strengthening skin. I like how lightweight and silky-smooth this serum feels and absorbs instantly providing a light dose of moisture. I have been using it every night after cleansing and then apply my night cream. If you are using it in your morning skincare routine , be sure to follow up with a moisturizer with SPF.
Clarifying Toner Balance Control Pads ($46) – Clarifying + Brightening Peptides, Azelaic + Lactic Acid and Canadian Willowherb. Formulated with 5% Lactic + 1% Azelaic Acid to improve skin smoothness and balance oil production, these skin clarifying toner pads remove dull skin and excess oil without stripping your skin of its natural moisture content. They also contain Aloe for soothing and anti-inflammatory effect. The individual pads are so quick and convenient to use and they are well saturated so one is enough for the entire face and neck. There is a bit of tingling sensation initially upon application, but it quickly goes away in a few seconds.
Spot Correction Acne Eliminating Treatment ($38) – Colloidal Sulfur, Lactic Acid, Sake Peptide. This advanced spot treatment formula features 3 peptides including a Detoxifying Peptide and Sulfur, an anti-inflammatory, antiseptic and antimicrobial that helps soothe and keep excess oil in control.(And no, it doesn't smell like sulfur) It helps to clear up acne pimples and prevent new ones from forming without over-drying the affected area. All you have to do is apply a thin layer over the affected area 1 to 3 times daily to combat those stubborn pimples gently and effectively. And I like that it does not contain any alcohol, making it a viable spot treatment option for people with dry or sensitive skin.
Well, now that you know what these products are and what makes them different, let me tell you how they worked for me. I have been using these products for about 3 weeks now and find them to be gentle enough for my moderately sensitive skin – I have experienced NO redness, dryness or irritation. They have been pretty effective at keeping my acne breakouts in conrtol and my overall experience with them has definitely been a positive one!
Would I recommend these products? Absolutely. If acne, aging and uneven skin tone are your most pressing skin concerns, the HydroPeptide Anti-Wrinkle + Clarify collection is worth checking out. Unlike most acne treatments, the products are not over-drying or irritating and treat your skin gently. The products do come with a steep price tag so that's a bit of downside. Hdropeptide does offer an Anti-Wrinkle + Clarify Value Set that includes all 4 products and retails for $225.