A dry shampoo that does double duty as waterless style refresher and a root touch-up? Yes, please! Gone are the days of powdery white oil absorbers. AG Hair's new, no-nonsense Simply Dry Shampoo has all the right moves!
AG Hair's new Dry Shampoo Category features a collection of four "flavors" including Simply Dry Shampoo and three Root Touch-Ups which span the entire hair color spectrum to match and blend seamlessly with your hair color, covering roots between salon visits. Perfect for those who don't want to wash their hair everyday (like me), but want it feeling refreshed!
Features and Benefits
Natural rice and tapioca starch soak up excess oil, leaving hair revitalized.
Hydrolyzed silk protein adds moisture and shine.
Green tea leaf extract antioxidants protect and strengthen the hair, making it healthier
Creates texture and body, leaving hair feeling fuller and more manageable.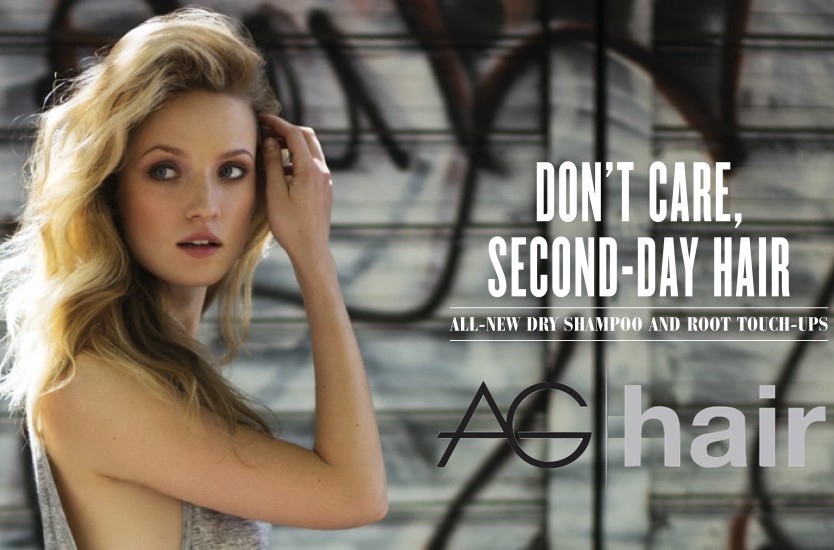 As someone with way-too-many gray hair for my age, you can imagine how excited I am about this new multi-tasking dry shampoo that not only refreshes & revives limp second/third day hair but also works as a much needed root touch-up! (instead of making my hair look ashy gray like many other dry shampoos do) In fact, the other day at Ulta, I asked the sales associate if they carry a dry shampoo specifically for dark hair but she didn't have anything good to suggest….looks like the Hair Gods have answered my prayers!
AG Simply Dry Shampoo works as a style refresher for every hair type and color while the Blonde, Light Brown (for light to medium brown hair) & Brunette (for dark brown to black hair) Dry Shampoo & Root Touch-Up absorb oil & buildup between shampoos and seamlessly cover up roots. No white powder residue to worry about!
For my dark brown hair, the Brunette Dry Shampoo works perfectly! I avoid washing my hair more than a couple times a week since suds can be so drying especially for dry, wavy & highly frizz-prone hair like mine. This dry shampoo gives me cleaner, refreshed hair with added volume and texture. Here are a few tricks I find useful : Hold the can at least 6-8 inches from hair, lift and spray directly onto roots. Let the product sit for at least two minutes to work its oil-absorbing magic and then comb through. Call it a mid-week rejuvenator…AG's Simply Dry shampoo has my stamp of approval!
AG Hair Simply Dry Shampoo will be available in select salons across North America on March 1, 2015.