PR sample When it comes to makeup with skincare benefits, IT Cosmetics has always been ahead of the curve! Whether it be their cult-favorite CC cream or Bye Bye Under Eye anti-aging concealer, their products work magic on our problem areas while covering 'em up too. And their latest launch is no exception!
Say hello to the new IT Cosmetics Confidence in a Foundation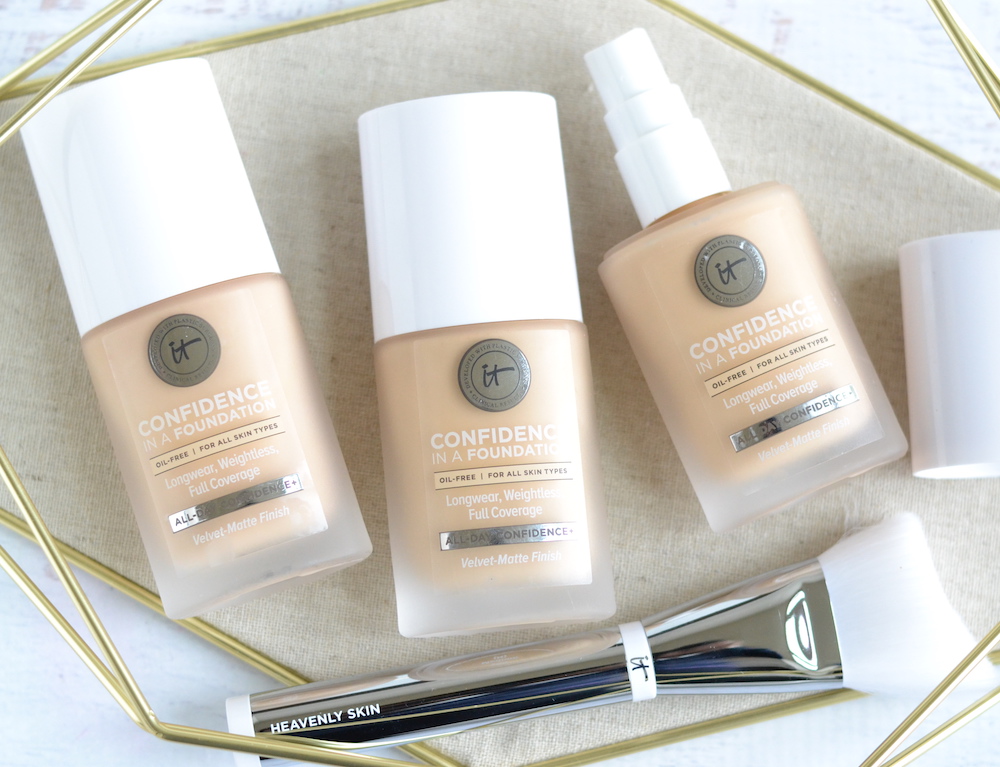 Product Description
IT Cosmetics Confidence in a Foundation is your long wear foundation infused with hydrating ceramides, peptides, hydrolyzed collagen, hyaluronic acid and squalane.
With a velvet-matte finish, this oil-free, humidity-proof, full-coverage foundation flawlessly covers the look of blemishes, dark spots and other imperfections. Plus, it's available in 48 true-to-skin shades. Experience all-day confidence every time you wear it!
If you have fairly uneven skin tone like me (thanks to acne scars and dark spots from sun damage!), you know how it feels like a necessity to have a medium-to-full coverage foundation in your makeup arsenal.
Even though I don't wear a foundation every day, I have a couple of go-to bases that I reach for at least twice a week (and sometimes even more depending on how busy my social calendar is!) when I want my skin to look picture-perfect.
And the new IT Cosmetics Confidence in a Foundation has been a great addition to my full-coverage foundation favorites list!
When I tried the IT Cosmetics Confidence in a Foundation for the first time, I was blown away by how pigmented the formula is! One little pump is all I need to get full coverage. This foundation claims to cover breakouts, redness, acne scars and dark spots and it actually does that!
Basically, it hides almost every imperfection and I don't even have to wear any concealer with this! Despite being full coverage, the formula doesn't feel thick or heavy and blends smoothly leaving a velvet-matte finish that looks natural.
With my dry skin, I'm always flying the flag for a dewy complexion and generally avoid anything too matte that would make my dry patches look even flakier than they already are. Thankfully, this foundation is matte but not overly so and wears comfortably without being drying or cakey. Its lasting matte finish doesn't make my skin look flat or dull.
Also, it doesn't accentuate my large pores or skin texture…score! I think I'll love this foundation even more in summer when my skin is not so dry!
Another thing worth a mention is that I loved using the new IT Cosmetics Confidence in a Gel Lotion to prep my skin before applying the foundation! It works beautifully as a primer and leaves my skin smooth and hydrated with a weightless feel.
This foundation also excels in the longevity department. It lasts all day (about 10 hours) on my dry skin. I did notice minor fading around my chin area and a little bit settling into my smile lines towards the end of the day but overall the staying power is pretty impressive.
I don't use a setting powder but it is recommended to use one as a finishing step (especially for combination to oily skin) to amp up the lasting power of the foundation.
Talking about the shade range, the 48 shades in the lineup have been divided into 5 color families: light, medium, tan, rich and deep. And within those groups are Cool (C), Warm (W) and Neutral (N) tones. You can use this Shade Finder to figure out your perfect shade or get your shade matched in-store at Ulta Beauty or Sephora.
I was sent 11 out of the 48 shades… see swatches below. Unfortunately, none of these shades was a perfect match for my skin tone but 205 Medium (N) was the closest to my complexion.
Bottom line
Overall, IT Cosmetics Confidence in a Foundation gets a thumbs up from me! It provides full coverage with a lightweight, smooth matte finish that isn't drying and looks natural. And it really lives up to its long-wearing claims without creasing or cracking. Not to mention, the oil-free formula is full of skin-loving ingredients.
IT Cosmetics Confidence in a Foundation is available for purchase at Ulta Beauty, Sephora, itcosmetics.com and Macy's for $32.