PR sample Urban Decay Stay Naked Weightless Liquid Foundation is a new medium-coverage foundation that promises to last up to 24 hours with a real-skin, matte finish.
Part of the new Urban Decay Stay Naked collection along with the Vice Lip Chemistry lip tints, this vegan long-wear foundation is available in 50 shades.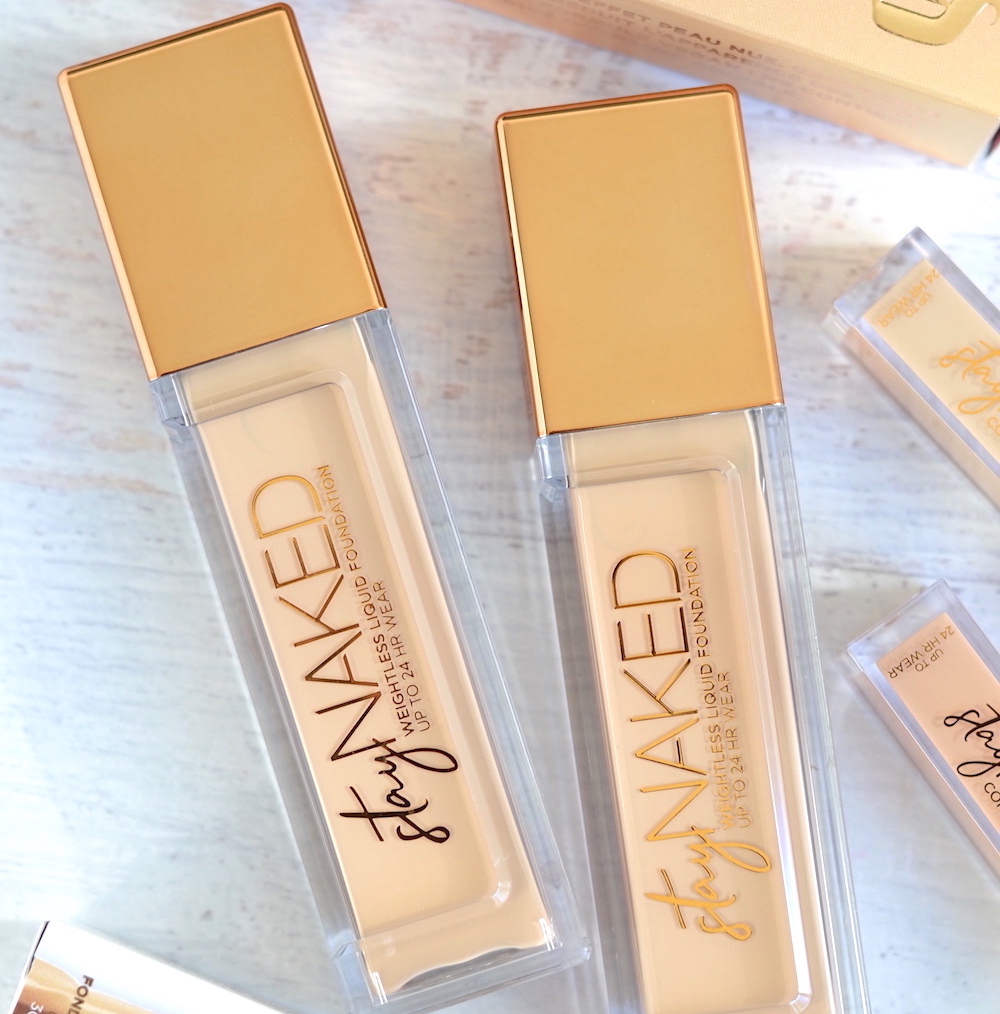 Urban Decay designed the Stay Naked lineup with 9 shade intensities (from very fair to ultra-deep), 3 master-tones (Cool, Neutral and Warm) and 7 undertones (Pink, Blue, Green, Neutral, Yellow, Orange and Red) to dial in your precise color match.
I found my perfect match in 41NN which is described as a light-medium neutral with a neutral undertone.
Urban Decay Stay Naked Foundation Review
Let me just start off by saying that my skin has been really dry lately (thanks to a new retinol treatment I've been testing out). I have naturally dry skin so when it gets even drier, I usually stay away from any matte makeup until the dry spell is over.
None the less, the extra-dry skin situation didn't stop me from trying out this exciting new foundation launch from Urban Decay! The Stay Naked Foundation is said to have an all-day matte finish that's also transfer-resistant and waterproof. And it also claims to be a breathable, flexible formula that feels like wearing nothing.
Typically, I prefer dewy foundations so I knew I probably wouldn't fall in love with this one. But guess what? It managed to impress me much more than I expected despite my dry skin woes!
Urban Decay Stay Naked Foundation has a thin, liquidy formula that is indeed very lightweight. It goes on smoothly and truly has a breathable, barely-there feel on the skin.
Of course, I need to prep my skin first with a moisturizer and hydrating primer before applying this foundation so that it blends out easily (and doesn't cling to any dry patches). After a good prepping, it gives me an evenly smooth matte finish that looks very skin-like.
And the finish looks even more natural as the day goes on – it still stays matte, just better! But what I really like about this foundation is how it smooths and nicely blurs out the appearance of noticeably large pores on my cheeks…score!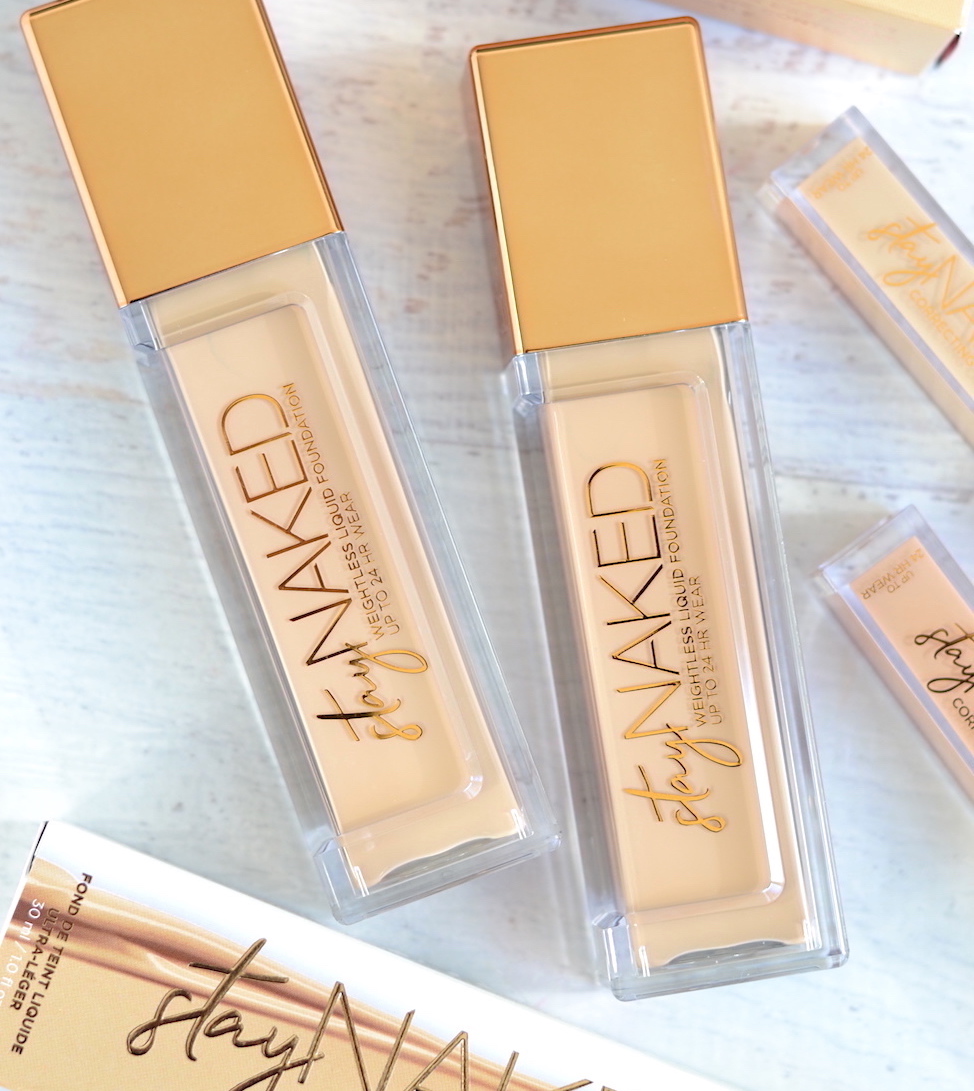 True to its claims, Stay Naked Foundation has a medium coverage formula that's buildable. It evens out my skin tone beautifully but I can still see my acne scars and dark spots peeking through. I usually go for two layers to amp up the coverage a bit more and it builds up easily without a heavy feel or caking.
When it comes to wear time, this foundation stays put almost all day long. I get a good 8-9 hours before the foundation starts looking a bit worn out. I don't use a setting powder but if you do use one, that might help it last longer!
There's only one thing about this foundation I don't like. Its ingredient list has alcohol among the first five ingredients and that's not a good thing (especially for those with dry skin like me) as it can trigger skin irritation and/or dryness with long-term use.
UD Stay Naked foundation is also oily skin approved. My friend Rachel tried it out as well and she is actually way more impressed with it than I am! She loved the smooth, super lightweight texture and natural matte finish that stays matte for several hours, when paired with a mattifying primer.
She also loved the pore-blurring effect like me. Also, the foundation holds up really well on her oily skin throughout the day without creasing, caking or separating. Overall, her verdict is very positive and she gave it a solid 4 stars out of 5!

Urban Decay Stay Naked collection also includes a new correcting concealer. Like the new foundation, Urban Decay Stay Naked Concealer ($29) is lightweight and long-wearing with a real-skin matte finish but this one has buildable full-coverage.
The concealer lineup features 25 shades with 9 shade intensities, 3 master-tones, and 5 undertones. I have been wearing the shade 40NN and love the excellent coverage that really lasts without creasing or settling into my fine lines (major plus point!)
I like that the finish is quite natural and doesn't feel or look heavy at all. Although it's not too matte or drying, I do prefer concealers that are a bit more creamy in texture than this one. But overall, the formula is fantastic! If you haven't found a medium-to-full coverage concealer that wears long and strong, I would highly recommend Stay Naked Correcting Concealer
Another gorgeous addition to this new Urban Decay collection is the Stay Naked Threesome Blush, Bronzer, & Highlighter Palette ($36) This vegan trio of bronzer, blush and highlighter in one convenient compact comes in 3 shade selections for different skin tones. I have the one in Naked (medium bronze, soft gold highlighter and classic pink blush)
These pressed powders have a silky-smooth texture that's easy to blend and build up, without getting streaky or cakey. And I am loving the natural satin finish! These powders can be used solo or combined for allover radiance. Just use a larger kabuki brush to sweep on all three together for a soft, sun-kissed glow!
Bottom Line
If you are looking for a light-to-medium coverage foundation that's long-wearing with a natural looking matte finish, Urban Decay Stay Naked Foundation deserves serious consideration. With a weightless texture and pore-blurring formula that's also waterproof, it wears beautifully with stay-true color.
Not to mention, it comes in an extensive range of 50 different shades with options for warm, cool, and neutral undertones. Although this foundation is said to be suitable for all skin types, I think those with combination to oily skin will like it a lot more! On my dry skin, it wears really well but requires a good prepping before application.
Urban Decay Stay Naked Foundation is available for purchase at Sephora, Ulta Beauty, Macy's and urbandecay.com for $39.