Affiliate links Looking for a foundation that feels like nothing, looks natural, and comes infused with skincare benefits? Then a serum foundation is the perfect product for you!
Serum foundations are the perfect fusion of skincare and makeup. They are packed with good-for-your-skin ingredients that hydrate, repair and protect your skin from environmental aggressors like UV rays and pollution.
In other words, they help your skin look smoother, hydrated and healthy while providing lightweight medium to full coverage.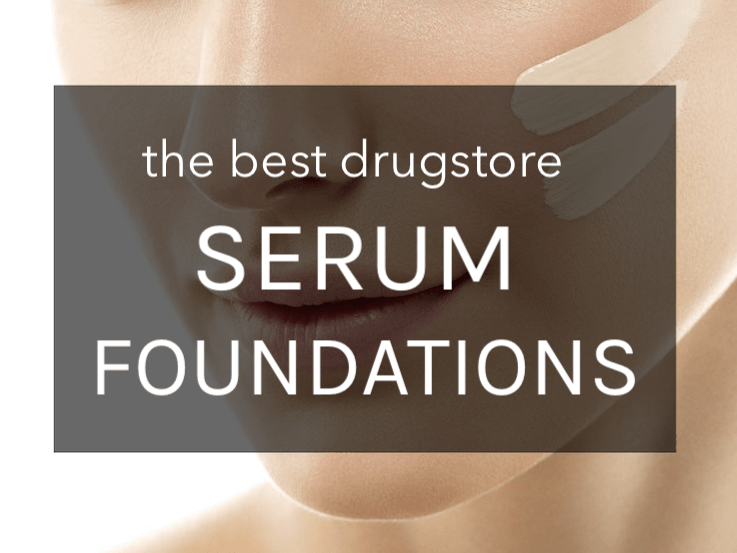 Unlike the traditional finish of a classic foundation, serum foundations have an ultra-light fluid consistency that blends easily with a weightless feel on your face. They are perfect for a more natural, no makeup-makeup look and there's one for every skin type!
With sweaty summer days (that call for sheer, barely there makeup) right around the corner, there's no better time to try a serum foundation if you haven't yet!
That said, although most serum foundations provide sun protection, you still need to use a sunscreen or daily moisturizer with SPF 30 or higher before applying foundation especially in summer. Makeup with SPF is not enough by itself to protect your skin (unless you're wearing almost half the bottle!), so you're getting a false sense of security!
Ready to switch to a serum foundation? Here are the best drugstore serum foundations that pack a potent skincare punch without breaking the bank!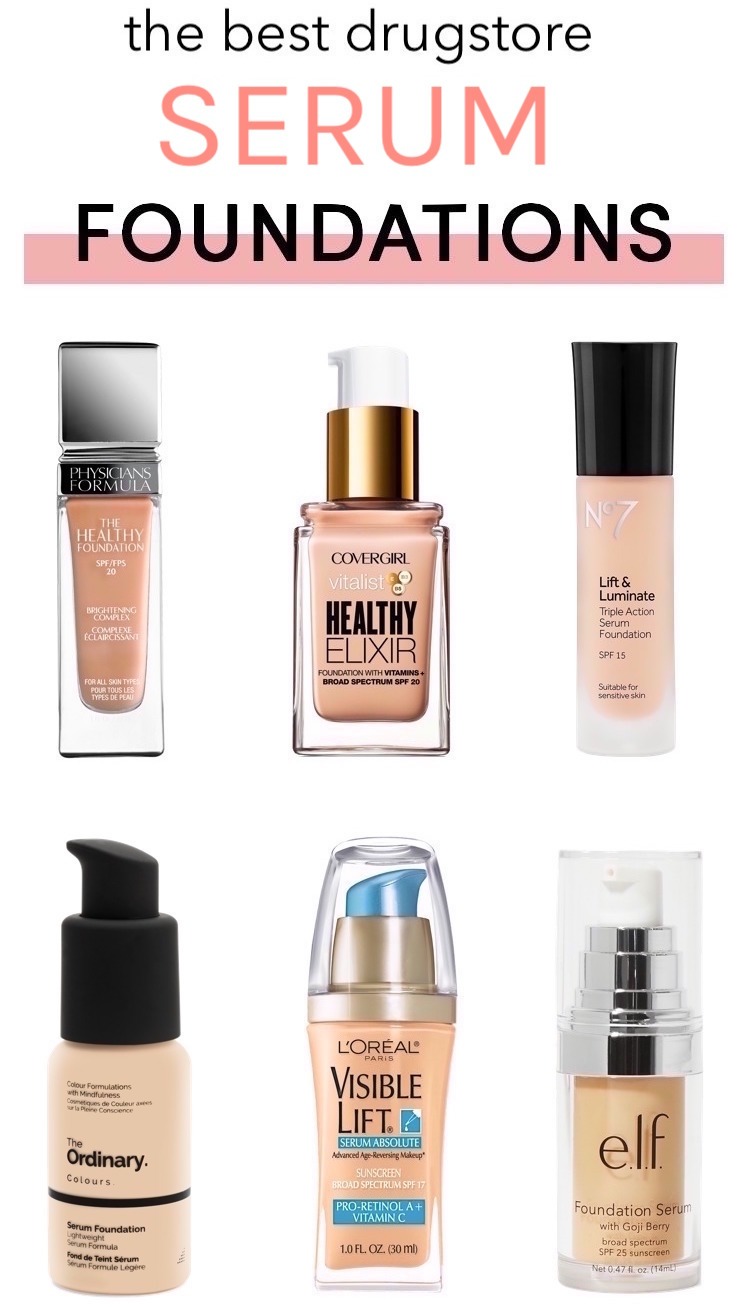 Physicians Formula The Healthy Foundation SPF 20 ($11.87)
This lightweight foundation packs a punch with Hyaluronic Acid to hydrate, Chinese Wu-Zhu-Yu Extract to brighten skin tone, plus SPF 20 to fight sun damage with an added boost of antioxidants Vitamins A, C and E!
It offers buildable, long-lasting medium coverage with a flattering matte finish that does a great job of holding back shine, yet doesn't cling to dry patches. Available in 16 shades, this foundation also checks off the fragrance-free, paraben-free, non-comedogenic, and cruelty-free boxes.
Covergirl Vitalist Healthy Elixir Foundation SPF 20 ($7.31)
This oil-free liquid foundation is infused with Vitamins E, B3, B5 and SPF 20 plus a special antioxidant complex to hydrate your skin while improving skin tone and texture over time. The ultra-lightweight formula provides buildable medium to full coverage with a beautiful satin-matte finish that holds up well throughout the day without creasing or fading.
Not only does it boost a dull complexion nicely but also also helps minimize the appearance of oily shine. In short, it makes your skin look damn good for less than $10! And it gets bonus points for a fairly expansive range of 14 shades for fair to deep skin tones. Here's my full review if you want more details.
No7 Lift & Luminate Triple Action Serum Foundation SPF 15 ($15.99)
Part foundation, part skin-perfecting serum, this drugstore beauty buy is one of the best of the bunch (when it comes to complexion perfecting benefits). It's enriched with the anti-aging skincare benefits of Lift & Luminate Triple Action Serum, which makes it a great choice for anyone with mature skin and also normal to dry skin types. It's also suitable for sensitive skin.
The hydrating formula contains Matrixyl 3000 Plus (anti-wrinkle peptide), plus vitamins A and C to reduce the appearance of pigmentation and fine lines. Not to mention, this foundation is also infused with light reflecting particles for that lit-from-within glow and offers medium to full coverage with a natural satin finish that's not matte nor dewy.
The Ordinary Serum Foundation ($6.70)
True to its name, this foundation has a very lightweight serum-like feel and texture that blends easily for a natural, semi-matte finish. The medium coverage formula comes in an impressive 21 shades  ranging from pale to deep. The shades are divided into three categories of fair/light, medium, and darker skin tones, which are then varied by pink (cool), Yellow (warm), and neutral undertones.
This foundation is oil-free, vegan and cruelty-free and offers skincare benefits to boot. Although not available at drugstores, it's actually cheaper than most drugstore foundations and comes in way more shades than many drugstore foundations as well…yay for cheap beauty thrills! I've heard that the Ordinary products will be available at Ulta Beauty soon. 
L'Oreal Paris Visible Lift Serum Absolute Advanced Age-Reversing Makeup SPF 17 ($12.99)
This luxuriously lightweight foundation covers all bases with glycerin and hyaluronic acid for hydration plus vitamin C and anti-aging retinol for brighter, younger-looking skin. Plus, it contains broad-spectrum SPF for reliable sun protection. Besides the skincare benefits, this foundation offers flawless medium coverage with a natural matte finish that works well for all skin types!
e.l.f. Cosmetics Beautifully Bare Foundation Serum SPF 25 ($8)
Infused with Vitamins A, C, & E, Grape Seed Oil, Pomegranate Oil, and Goji Berry to help brighten, nourish and protect the skin, this foundation offers serious skincare benefits at an affordable price point! Plus, there's broad-spectrum SPF 25 (with a mineral-only formula that's good for sensitive skin).
The fragrance-free formula has a barely there, silky feel with natural-looking light to medium coverage that wears impressively well and stays put. Though the finish is initially dewy, it dries down to a soft powder finish that's suitable for most skin types.
PS: Even though serum foundations offer skincare level benefits, they shouldn't replace your staple moisturizer or eye cream altogether if you want to keep your skin in tip-top shape.
Makeup with skincare is always an added bonus, but you can't rely on your serum foundation (unless you really cake it on) as a complete skincare solution for your complexion concerns! Your skin needs a variety of different skincare ingredients (Retinol, Glycolic acid, peptides, antioxidants like Vitamin C… just to name a few!) to keep looking younger for longer!
Have you tried a serum foundation, drugstore or high-end? Any favorites? And if not, which of these drugstore serum foundations seem right up your alley?
Shop this post…