Surface Bassu Gold Hydrating oil is a leave-in treatment for normal to coarse hair and helps to smooth, enhance shine and also control frizz with natural lipids. From Surface hair "Infused with Argan Oil, Babassu oil, ceramides and antioxidant-rich Color Vita Complex,  it restores and intensifies natural shine while providing hydration, protection and the ultimate color lock."
Surface Bassu Gold hydrating oil can be used on wet or dry hair. I prefer to use it on freshly washed, towel dried hair before air-drying or heat styling. (For reference, I have thick, dry and color treated hair). The oil has a rich gold color but it dissipates as you apply it on your hair without leaving a stain of any kind.
Even with all the natural oils, it is a lightweight formula that does not feel heavy or greasy and a quarter sized amount each side (I section my hair in two) does the job well for my long tresses. I can feel the difference after my hair is dry – frizzies are tamed nicely and my locks are smooth and shiny. I have also used this hydrating oil on clean, dry hair to get rid of flyaways and it doesn't weigh them down. Oh, the scent is divine too!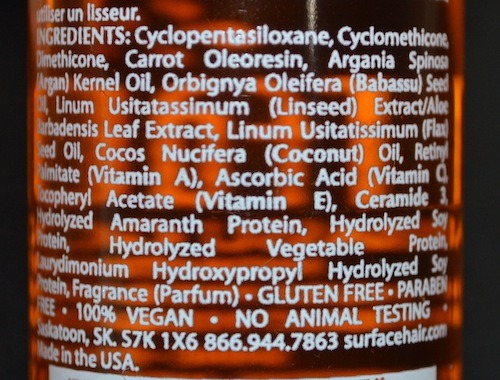 Overall, count me impressed with Surface Bassu Gold Hydrating oil as it does everything it claims to do and is just perfect for moisture-starved winter hair. Formulated with all natural, organic ingredients and free of alcohol, parabens, sulfates, phthalates, artificial colors; it's the perfect replacement for my current anti-frizz leave-in treatment (by DermOrganic). The two-ounce bottle retails for $23.95 but is worth the splurge b'coz a little goes a long way.
Surface hair products are available for sale exclusively in professional salons throughout the US and Canada. You can use the salon locator on surfacehair.com to find a salon closest to you.
Disclosure: This review features a sample product provided by PR for consideration. All opinions are my own.