Beauty sample box subscription services seem to be all the rage these days. I'm sure most of you have heard about Birchbox, MyGlam etc where you can subscribe to receive a box full of 4-5 beauty/makeup samples or full-size products each month for a small monthly fee. I think these services are a great option for all beauty-lovers who want to explore different brands and makeup products with the convenience of home delivery. Part of the appeal is that it also makes the items much more affordable!
And now there's also a monthly subscription service for nail polish lovers – Julep Maven. That's right! Julep is a hand, nail and foot care brand that offers innovative & healthy nail polishes, Mani & Pedi care products. As a Julep Maven, you can have exclusive access to the hottest trends in nail color and the latest Mani & Pedi Care products – delivered right to your doorstep.
Perks of your Julep Maven membership:
• For just $19.99 a month, you'll receive over $40 worth of customized nail/hand/foot care products (full-sized) each month elegantly packaged in an exclusive, gift-able Sneak Peek Box
• Featuring new, never before released colors and treatments FIRST to you, before anyone else
• 20% off all julep.com purchases
• Free shipping on ALL your purchases
• You can also skip any month or send your box to a girlfriend as a gift – free of charge. And of course, you can cancel membership at any time.
• Each box also comes with a sample surprise and delight element- something to look forward to!
How to become a Julep Maven?
Just take a fun and easy Julep Maven Style Quiz to help determine your style profile which could be American Beauty, Classic with a Twist, Boho Glam, It Girl, orBombshell. You will instantly view your Style Profile and your customized  Sneak Peek Box with products that best compliment your unique look. If you like what you see, just sign up for Julep Maven subscription and you are done! After the first box, you will get a preview email every month to notify about your selected products and if you don't like what you see, you can easily request to receive another "shelf pull" of different products.
Sounds good? Then let's take a look at what I received in my introductory Maven Box (there's also a special discount code for you guys!)
My It Girl Sneak Peek box included :
• Julep Polish in Kim : a dark, gunmetal grey
• Julep Polish in Christina : a shimmery, vibrant orange
• Julep Polish in Trina : a deep shimmer aubergine
• Julep Nail Therapy/Base coat
• 2 foil Samples : Julep Everyday SPF Hand Cream SPF 30 and Julep Glow On Age-Defying Hand Brightener and also a Glitter pot for nails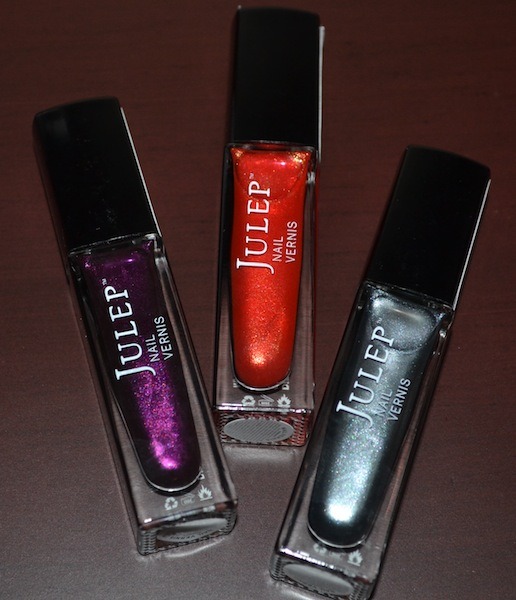 I am totally digging these bright and festive nail colors that are just perfect for the holiday season! The base coat is really nice too and prevents dark colors from staining the nails. I will do NOTD posts with these shades very soon.
The normal retail price for a single Julep nail polish is $14 and it's $16 for the Nail therapy so this Maven box definitely offers a great value with products well worth over $40.00 for a $19.99 price! I would definitely recommend the Julep Maven program to all nail junkies out there or anyone interested in trying exciting nail colors at an affordable price each month!
Get it for $5!

If you're interested in becoming a Maven, sign up now  using code 'BEAUTYTIDBITS' at checkout and receive your first Julep Maven Sneak Peek Box for just $5 (valued over $40)!
Disclosure: This review features a sample product provided by PR for consideration. Regardless, my priority is to remain truthful to my readers and the post reflects my honest opinion as always!