Estee Lauder Futurist Hydra Rescue Foundation SPF 45 is a new hydrating and long-wearing foundation that offers breathable medium-to-full coverage with a radiant finish. Available in 20 shades, the formula is also infused with good-for-your-skin ingredients to hydrate, soothe and protect.
Moisturizing makeup with long-lasting full coverage and radiant glow, plus skincare benefits to boot! Sounds like the perfect thing for my dry skin, but does it live up to the hype?
In my quest for the perfect hydrating foundation that hides my blemishes, makes my skin look dewy fresh and healthy — not done up, I've met a lot of duds.
I've also found a few gems (like this one) that I keep in my foundation rotation. But the new Estee Lauder Hydra Rescue Foundation is absolute perfection! It stands out from the crowd and delivers on all counts for a flawless finish, plus it provides serious skincare too!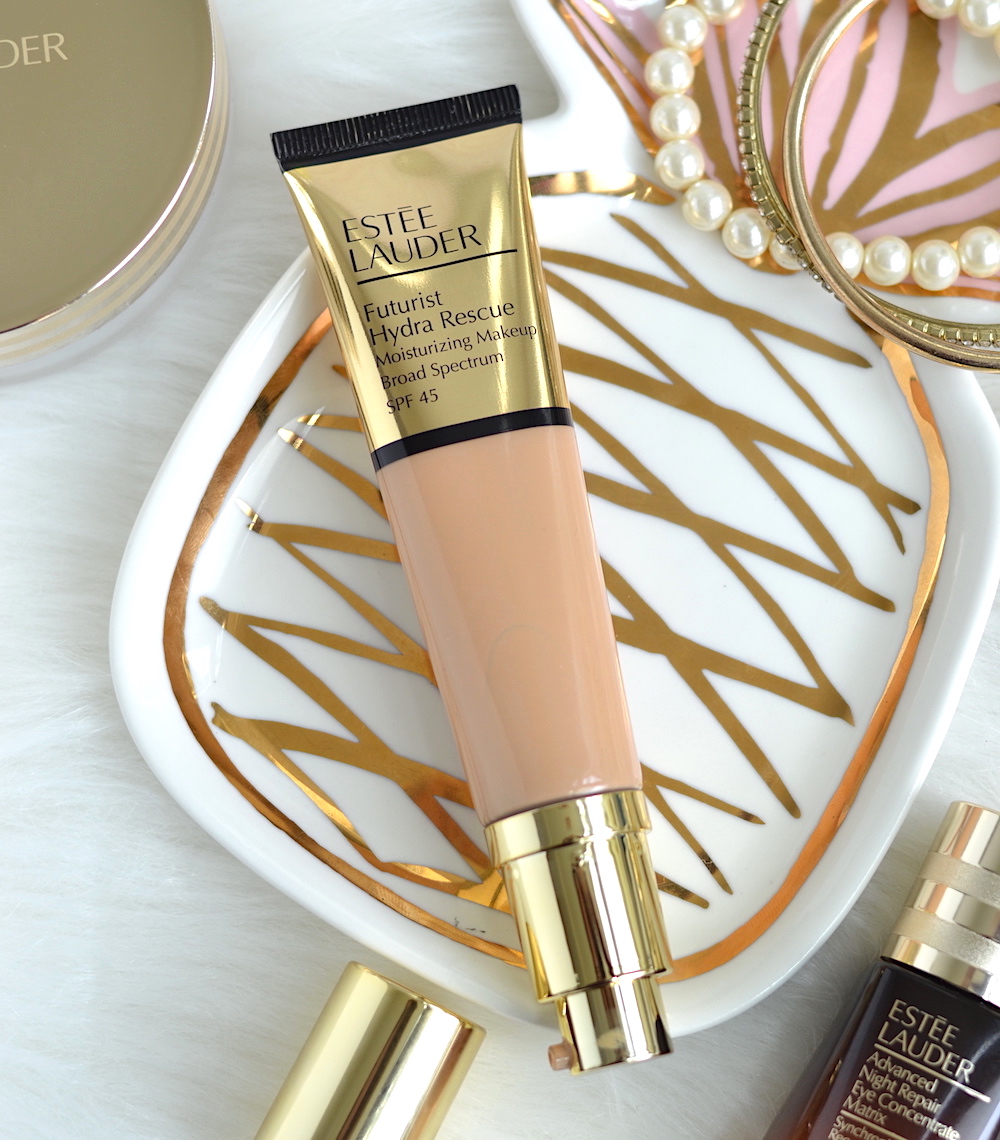 Product Details
Coverage + Care: Powered with high-performance Estée Lauder skincare. Breathable, skin-loving makeup with a 12-hour radiant glow.
The buildable medium-to-full coverage, lightweight formula immediately evens skintone, covers redness, dark spots and imperfections. Rescues skin with soothing, plumping hydration.
This Moisturizing Makeup is infused with hydrating IonCharged Water, plus soothing probiotic technology and nourishing chia-seed extract.
Clinical testing shows:
SOOTHES visible redness and irritation.
PROTECTS against pollution with anti-oxidants.
HYDRATES instantly and all day.
All-day long wear. Broad spectrum UVA/UVB protection. Stays color true. Comes in 20 shades.
To select your shade, choose your skin's intensity level (from ultra light to very deep) and undertone (cool, neutral or warm).
Estee Lauder Hydra Rescue Foundation has a lightweight, liquidy texture that blends out very easily. As the name implies, the formula feels hydrating but not at all heavy, thick or tacky. And it feels comfortable throughout the day.
I love its satiny, soft luminous finish that's very natural and skin-like, making my complexion look radiant with a healthy glow. The finish isn't overly dewy but just enough to give my skin a natural-looking glow! And it doesn't get greasy or shiny on me as the day goes on, which is exactly what I want.
True to its claims, Estee Lauder Hydra Rescue Foundation provides great medium coverage that's easily buildable to almost full coverage. I find that two pumps is all I need to conceal most imperfections.
Whether it be my acne scars, dark spots or redness, this hydrating foundation provides pretty much full coverage for all my problem areas. And it's easy to layer without looking cakey or heavy! Using a makeup brush gives me the best results but a blending sponge also works well. You can also sheer it out by using a damp beauty sponge for a more natural look.
Another plus? It doesn't emphasize my pores nor does it cling to the dry patches on my face. However, I did notice a tiny bit of settling into my smile lines towards the end of the day (that happens with almost all my foundations though)
When it comes to longevity, this foundation wears well without fading and doesn't look cakey or dry. Paired with a primer, it stays put except for looking slightly worn off around my chin after about 9 hours. I was particularly impressed by this foundation's ability to resist creasing!
If you have oily skin, you might want to set it with powder for better longevity and also to mattify if the finish is a little too luminous for your liking.
As for the shade range, it's not very extensive and comes in only 20 shades. But the good news is that this foundation has the same shade name lineup as the original Double Wear range. You can use this Shade Finder to pick your perfect shade.
My shade is 3W1 Tawny (medium with warm golden undertones) in the Double Wear line and luckily I found the same shade in the Hydra Rescue range as well. However, the shade range definitely needs to be more inclusive, especially considering that the Double Wear line has over 55 shades.
Bottom Line
Estee Lauder hit it out of the park with this new foundation! With its lightweight texture and excellent coverage that lasts, it really lives up to its complexion perfection promise. It has a hydrating, radiant finish that looks natural and feels like second-skin. Not to mention, it provides serious skincare benefits plus SPF 45 to boot!
I wouldn't hesitate saying that Estee Lauder Hydra Rescue Foundation is my new holy grail! It gives me flawless, fuss-free coverage and hydration with a healthy glow!
I think this hydrating foundation would be great for all skin types but it's especially perfect for those with dry skin like me (and mature skin too!)
Estee Lauder Hydra Rescue Foundation is available at Sephora, Ulta Beauty, Nordstrom and esteelauder.com for $45.
Image credit: Sephora