Affiliate links Now that it's officially fall, it's time to play up your pout with bold, rich hues of red, berry, burgundy and rustic spice. While summer calls for lighter and brighter lipsticks, fall is all about dramatic and darker hues that put your lip look at the top of its game!
NEW POST: 14 Must-Have Drugstore Lipsticks For Fall 2021 (All under $12)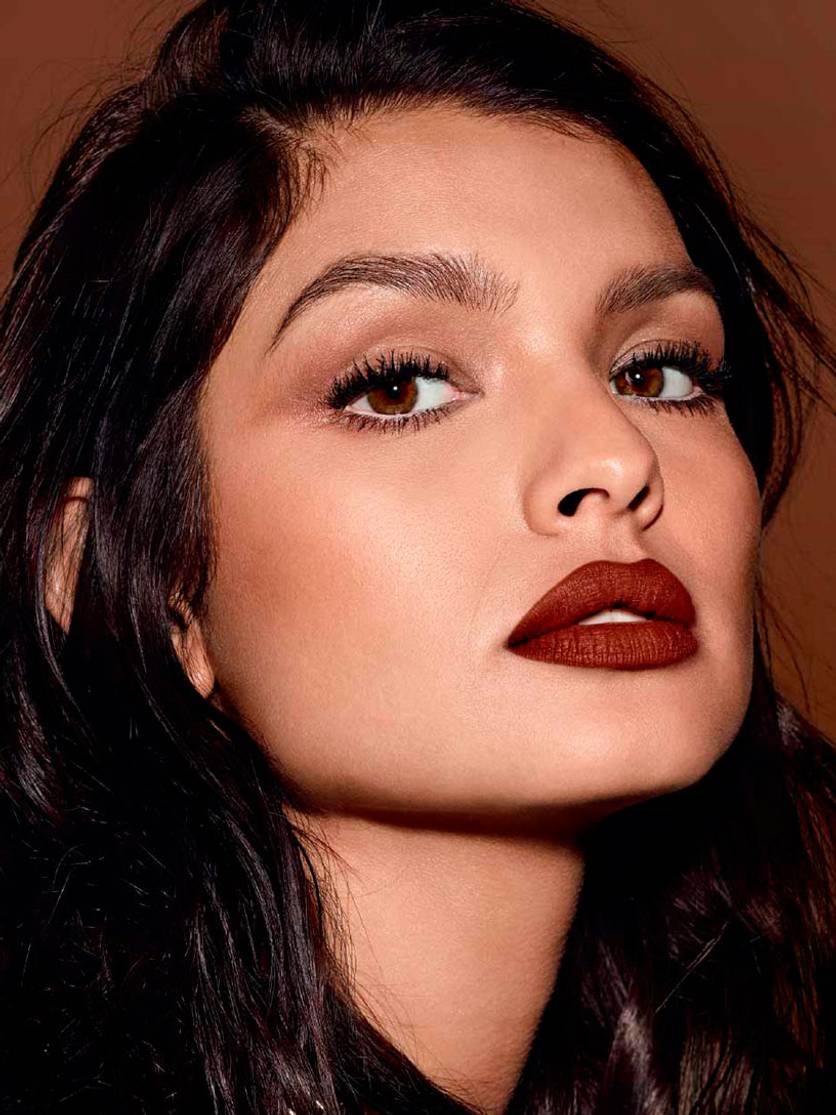 Image credit: Maybelline
If you are looking for a few new sultry shades to spice up your makeup look for the sweater weather, check out this list of the best drugstore lipsticks for fall that you'll want to wear all season long.
Image credit: Revlon
From moody mauves, berries and purple-plums to bold browns, burgundy and deep wine red, below you'll find more than a dozen statement-making stand out shades that are sure to turn heads!
From high-pigmented mattes to lush liquid lipsticks with major staying power and creamy lip stains that leave lips hydrated rather than zapped of moisture—I've got 'em all and more! Now, amp up those luscious lips!
Best Drugstore Lipsticks For Fall
1. Revlon Super Lustrous The Luscious Mattes Lipstick in After Hours (deep bourdeux) $8.49
2. Physicians Formula Nourishing Lipstick in Spice (brick rose) $5.69
3. L'Oréal Age Perfect Luminous Hydrating Lipstick in Perfect Burgundy (warm burgundy) $8.49
4. Maybelline SuperStay Ink Crayon Lipstick in Make It Happen (raspberry wine) $6.64
5. Revolution PRO New Neutrals Satin Matte Lipstick in Thirst (purple-toned plum) $4.50
6. Makeup Revolution Satin Kiss Lipstick in Rose (muted dark rose) $7
7. NYX Shout Loud Satin Lipstick in Dirty Talk (bright berry) $8.47
8. Milani Ludicrous Matte Lip Crayon in Lovesick (warm red-brown) $8.99
9. e.l.f. Cosmetics SRSLY Satin Lipstick in Pepper (red-orange) $3
10. Maybelline SuperStay Matte Ink Liquid Lipstick Coffee Edition in Cocoa Connoisseur (rich caramel brown) $7.98
11. NYX Filler Instinct Plumping Lip Color in Sugar Pie (mauve pink purple) $7.97
12. Milani Amore Satin Matte Lip Crème in Elegant (deep wine red) $5
13. CoverGirl Outlast UltiMatte One Step Liquid Lip Color in No Wine-ing (vibrant berry red) $7.94
14. Wet n Wild MegaLast High Shine Lipstick in Jam with Me (reddish brown) $2
15. Revlon Super Lustrous Glass Shine Lipstick in Black Cherry (glossy berry plum) $7
16. L'Oreal Paris Infallible Matte Lip Crayon in Spice of Life (sultry rose-brown) $6.83
17. Hard Candy All Matte Up Plus Lip Crayon in Earthy Marsala (terracotta-toned marsala) $4.97
Which of these stunning lipstick shades are calling your name?