Spooky season is ~officially~ here! Have you decided your Halloween costume and makeup look or still looking for ideas?
Halloween is the perfect time to dress up as someone or something you've always wanted to be! To help you get inspired, ahead I've rounded up some easy Halloween makeup looks and costume ideas along with step-by-step tutorials to help you nail the look.
From top trending movie characters (Hi Barbie!) to the more traditional (Wednesday Addams) and tried-and-true classics (sorry, but a demon or cat costume never gets old), these Halloween costume ideas will never steer you wrong.
Whether you want your Halloween costume to be pretty and girly, or spooky and scary, we've got all the inspiration you need. And not to worry, you can easily pull off some of these outfits even if you are a last minute, what's-in-my-closet kind of person! So, my ghouls, let's get into it, shall we? Here are 16 easy halloween costume and makeup ideas that are totally doable!
Easy Halloween Makeup and Costume Ideas
1. Wednesday Addams Halloween Makeup and Costume
You can't go wrong with Wednesday Addams costume for Halloween! Not to mention, it will certainly keep you cozy with all the layers — black dress, opaque black tights, and of course black shoes. You don't even need a black wig if you already have naturally dark hair, just give yourself two cute little braids! And start perfecting that straight-faced, vapid stare for the fright night.
Image credit: Danielle Marcan
There's no denying that Jenna Ortega killed it as Wednesday Addams! So if you really want to channel her gothic glam, check out this makeup tutorial by Stephanie Stokkvik. Perfectly evil!
2. Mime Halloween Makeup and Costume
Whether you're a busy girl who doesn't have time to turn out a next-level costume or a lazy girl who just… can't even, this one is for you! Mime is one of the classic last-minute Halloween costumes for a reason—it's easy to put together and you can continue to wear the striped shirt , scarf and black beret afterwards.
Image credit: Friday We're in Love
Want to look a little creepy, but mainly glam? This mime makeup tutorial is just what you need!
3. Hocus Pocus Halloween Makeup and Costume
The Sanderson Sisters from Hocus Pocus are probably the most iconic Halloween characters! So if you are also obsessed with the movie and planning to dress up as Sarah Sanderson, you'll love this Hocus Pocus Halloween makeup tutorial below. Pick up a platinum blonde wig, smudge on a smoky eye and apply a dark red lipstick. Bonus points if you rope in two friends to complete the Sanderson sisters!
4. Barbie Halloween Costume and Makeup
Barbie is set to be one of the most popular Halloween costume of 2023. Even if you're too old to trick or treat, you can't deny the appeal of wearing pink from head-to-toe!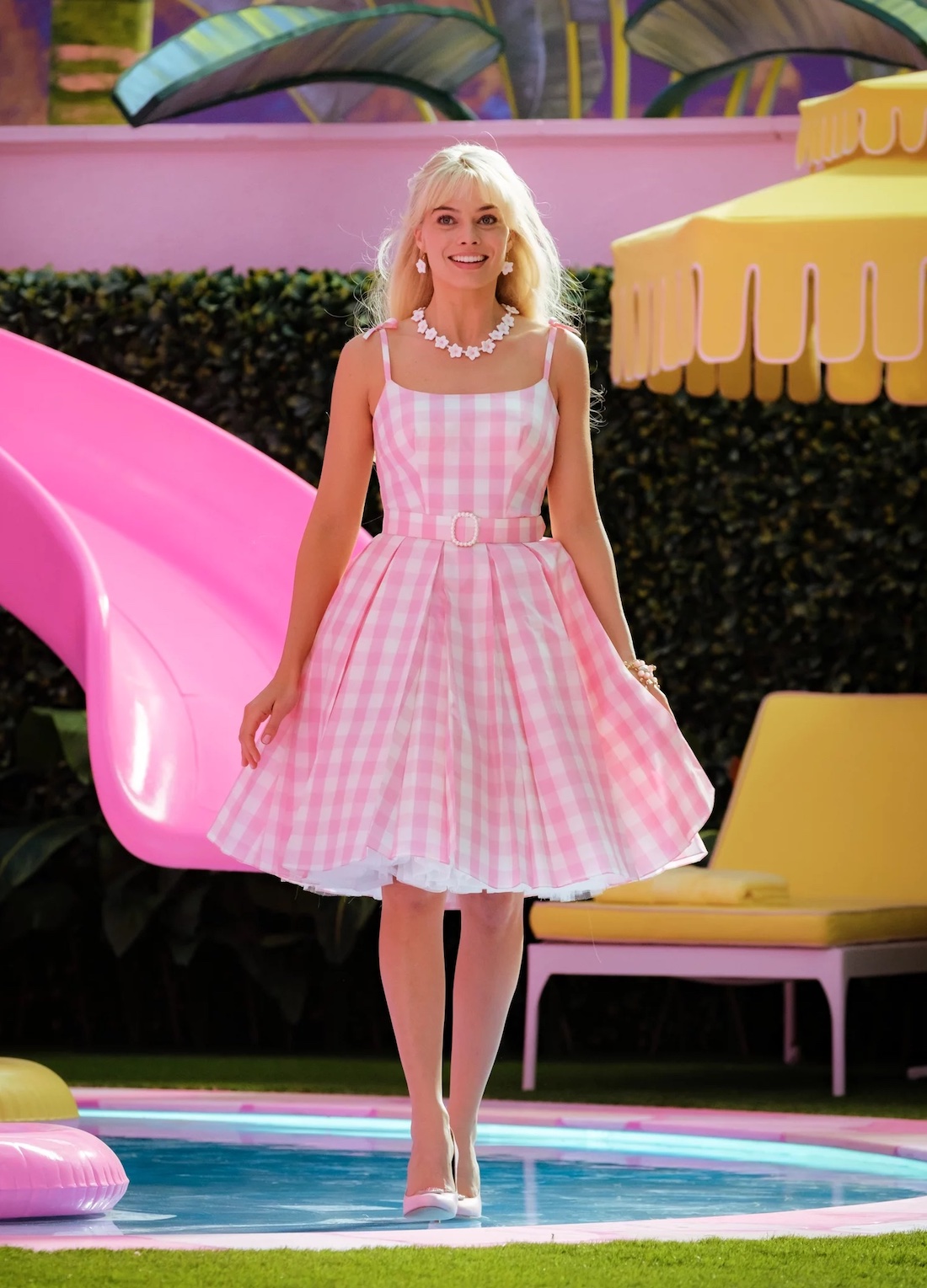 Image credit: Warner Bros.
Classic Barbie Halloween Costume
This pretty pink gingham dress makes the perfect Barbie Halloween costume for wearing to all your spooky szn parties! Pair it with a flower necklace and matching earrings, as well as a pair of pink closed-toe heels to complete the signature look. The best part is that you can easily rewear this dress after Halloween's over! You'll also find this Barbie Makeup Tutorial handy.
Cowgirl Barbie Halloween Costume
Channel your inner Cowgirl Barbie with a hot pink vest and matching flared pants, paired with a white cowboy hat. And don't forget the cowgirl boots to finish off your look.
Image credit: Warner Bros.
If Barbie is your inspiration this Halloween, the best part is that there are so many amazing Barbie movie costumes to choose from – including Disco Barbie, Sporty Roller Blade Barbie, Weird Barbie or Pink Jumpsuit Barbie for an easy peasy, yet trendy look!
Image credit: Warner Bros.
Not to mention, you don't even have to dress exactly like Barbie in the movie either. To capture her essence, you really just need a pink makeup look and a pink outfit with accessories to match for an unbeatable Barbiecore look!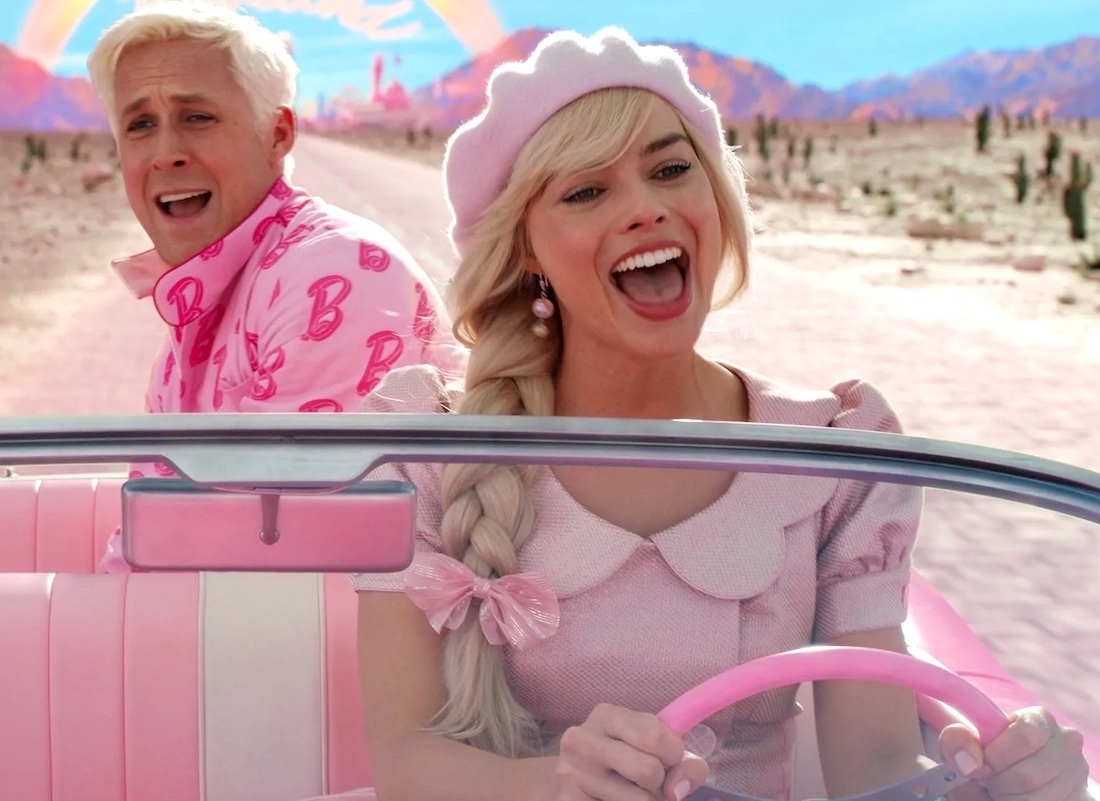 Image credit: Warner Bros.
5. Mary Poppins Halloween Costume
This Mary Poppins costume is practically perfect in every way, and it's so easy to put together using a few things you probably already own! To recreate this look, pair a white shirt with a black skirt and tights. And then you just need to add a few accessories: a vintage bag, umbrella, hat, some flowers for your hat and a red bow tie.
Even better, dressing up as Mary Poppins and Bert is a couple's costume that will crush with minimal effort! Get the tutorial at Keiko Lynn.
6. Mermaid Halloween Makeup Look
If you fancy giving mermaid makeup a go for Halloween this year, this simple step-by-step makeup tutorial is a must-watch! This mermaid makeup look is gorgeous and features shimmery blue and purple shades for a soft, ethereal look. The tutorial shows you how to easily create beautiful mermaid scales on your face!  For Halloween mermaid costume, all you need is this pretty mermaid skirt.
7. Pirate Halloween Costume 
Ahoy, matey! Grab your striped shirt and pair it with a black denim jeans and black boots for this super easy pirate costume. An eye patch is a must for this costume. You can even add extra accessories like a sword or a hook for a hand. As for the makeup, keep it simple and grab your favorite black eyeliner for a classic cat eye!
Image credit: Brit+Co.
8. Cruella de Vil Halloween Makeup and Costume
If your vibe is more Disney villain than princess, Cruella de Vil is where it's at for Halloween! Cruella's signature black-and-white hair is the key in pulling this look off, so getting the right wig is your first step. If you don't want to buy a pre-made costume, this DIY Cruella costume tutorial is sure to get you inspired. You might be able to grab a few things (like a black leather jacket) that's already in your closet!
Image credit: The Merry Thought
In terms of makeup, no Cruella look is complete without a classic red lipstick (like MAC Ruby Woo) and smokey eye makeup. Check out this Cruella makeup tutorial below to recreate Emma Stone's iconic look in the movie.
9. Minnie Mouse Halloween Makeup and Costume
So what if you're a grown-up? You'll never stop loving Disney, like ever! And who doesn't love the adorable Minnie Mouse? You'll just need a black top, black tights, red polka dot skirt (which can easily be worn throughout the year), white gloves and black heels. And of course,  grab your Minnie Mouse ears and you are good to go! This is such a simple and cute, last-minute Halloween costume.
Check out this fun Minnie Mouse makeup tutorial to complete the look! This makeup look is so cute and really easy, and all you need are everyday makeup products that you probably already have in your collection.
10. Sexy Devil Halloween Makeup Look
If you've ever wanted to create a devil look for Halloween, then this makeup tutorial is for you! For this look, you really need to pack on a vibrant red eyeshadow and use a dark red lipstick, and you can even add some false eyelashes for a sultry devil vibe! It's a fairly simple makeup look that's also great for beginners.
11. F1 Racecar Driver Halloween Costume 
This smokin' hot Formula 1 driver is another easy last-minute Halloween costume that won't take much of your time or effort! The bold red of this look is the perfect color to match the ferociousness of an F1 driver, plus the jumpsuit is comfy as well as eye-catching.
Image credit: Brit + Co
Whether you want to do a fall makeup look or go without makeup for this Halloween costume is totally up to you, but you can't go wrong with a bright red lipstick and some messy waves! Oh yeah, and don't forget the racing helmet.
12. Scarecrow Halloween Makeup and Costume
This scarecrow makeup look is so cute with fun and colorful stitching! And it's also easy to create with just a few makeup products, a straw hat and a plaid shirt paired with jeans. I like that this scarecrow costume is cute and not scary which makes it perfect for wearing to the office or trick-or-treating with the family. Follow this step-by-step tutorial to turn yourself into a cute scarecrow this Halloween.
Image credit: Kindly Unspoken
13. The Illusionist Makeup Look for Halloween
You can achieve this glam look with this step-by-step makeup tutorial from L'Oreal. Don't worry about using the exact products shown here, you can use similar shades of eyeliner and lip color from your own makeup stash. Just use this guide as an inspiration to create the look!
Image credit: L'Oreal Paris
Grab your sparkly dress and a hat, add a few accessories and you're all set! And don't forget your deck of cards.
14. Kitty Cat Halloween Makeup and Costume
It's the unofficial last-minute backup costume, foolproof and hard to mess up! Use a black waterproof eyeliner pencil to draw a dot on the tip of your nose and whiskers on your cheeks. Use a liquid eyeliner to trace a thin strip along your upper lash line, extending the color out slightly at the corners for a cat-eye effect. And then apply a soft pink lip color.
Now you just need a black outfit, a cat ear headband and you're done! Check out this makeup tutorial below if you need a little help to puur-fect your look!
15. Vampire Halloween Makeup 
Is it Halloween without a vampire makeup look in the mix? Whether you want a sultry, dramatic vampire makeup look or keep it a bit simple, this Vampire Halloween makeup tutorial has got you covered!
Long fangs are optional, but blood dribbling from the corners of your mouth with a red liquid lip stain is not. Benefit Benetint is drippy and has a blood-like texture.  Lottie London has also released a new Vampire Diaries Makeup Collection to help you get the perfect vampy look!
16. Bank Robber Halloween Costume
Freeze! And hand over all the candy. Steal hearts on Halloween with this bank robber costume. You just need a black & white striped shirt, black pants and black boots. Grab an old pillowcase and draw a dollar sign on the front using a black sharpie. Throw on a masquerade mask and black beanie, and voila! Another bonus: you can dress your date as a robber for a partner-in-crime couples costume.
Image credit: Brit+Co.
17. Cry Baby Halloween Makeup
Get your acting skills on and have fun with this cry baby makeup look for Halloween! Btw, you can totally switch out the black liner here for a red one to make this eye makeup look bloody if you are going for a more scary or gory vibe! This look is fairly easy to recreate even if you're short for time.
Image credit: Brit+Co
I hope you liked this roundup of easy halloween makeup and costume ideas! Which Halloween makeup look is your favorite?
Don't forget to save and bookmark this article for future reference!
PS: Did you check out these amazing Halloween nail art ideas I posted about recently?
For more Halloween inspiration and last-minute Halloween costumes, follow me on Pinterest
Pin This For Later!