PR samples Formula 10.0.6 has introduced a new Vitamin skincare collection that features 13 products designed to enhance your daily skincare routine with the vitamins, minerals and nutrients you need to look and feel radiant.
Image credit: Formula 10.0.6
From the more known vitamins, like A (retinol), B3, B5, C, E and F, to skincare superheroes like omega fatty acids, shea butter, grapeseed oil, hyaluronic acid, peptides and ceramides, the Formula 10.0.6 vitamin collection includes products enriched with these key ingredients to nourish, protect and brighten your skin.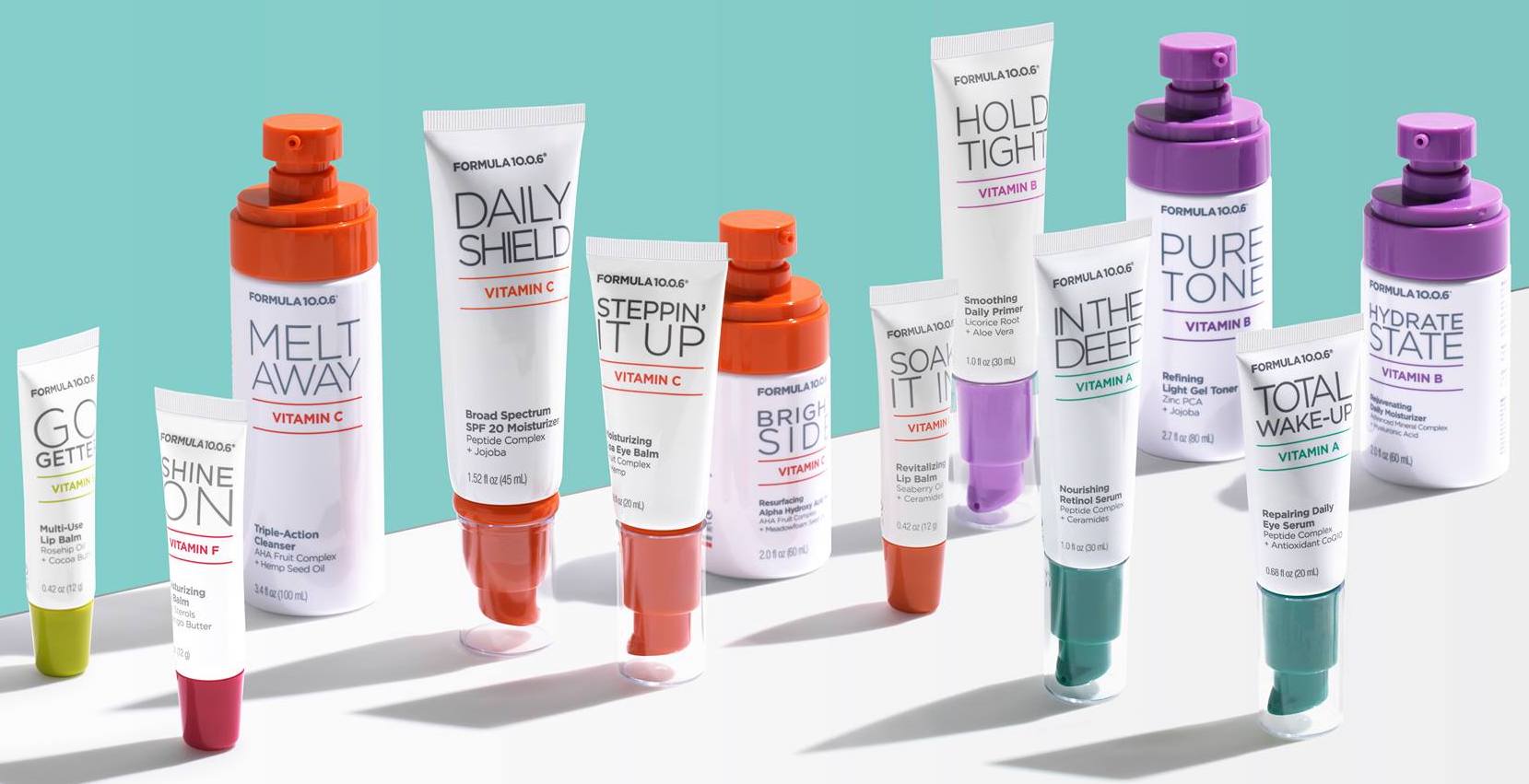 Priced from $8-$15, this affordable skincare range has everything from cleansers, moisturizers and lip balms to serums and sleeping mask.
I tried out 3 new products from the Formula 10.0.6 Vitamin Collection and loved each one of them! Keep reading for the full scoop…
Formula 10.0.6 Bright Side Vitamin C Resurfacing Alpha Hydroxy Acid Mask ($14)
This has quickly become one of my new favorite face masks that takes my complexion from dull and dry to dewy! I also featured it my DIY facial at home guide that I posted a couple of weeks ago.
With 8% AHA (glycolic acid) to brighten and smooth skin texture plus Vitamin C, panthenol (vitamin B5), chamomile, grape seed extract and meadowfoam seed oil for a healthy dose of soothing moisture, this brightening mask is the perfect pick-me-up for dull, lackluster skin!
All it needs is 10 minutes to work it's magic. Apply a generous layer over clean, dry skin, avoiding the eye area and then rinse with cool water after 10 minutes. Super smooth skin for the win! It can be used 1-2 times per week as needed. It's great for all skin types. For under $15, this is a must-have mask you need in your skincare routine!
Formula 10.0.6 Hold Tight Vitamin B Smoothing Daily Primer ($15)
This Vitamin B enriched, oil-controlling primer promises to minimize the appearance of pores and fine lines, and also contains skin-soothing licorice root extract and aloe vera.
Since this primer is said to be oil-controlling, I thought it was targeted towards oily skin types and might be too mattifying for my dry skin. But thankfully that's not the case!
I love how it feels super-silky going on my skin and blurs the appearance of large pores. True to its name, this primer is really smoothing and leaves my skin perfectly prepped for makeup (and helps it last longer too!) The formula does have a matte finish but it isn't drying at all and doesn't emphasize my dry patches.
I really like everything about this primer, from its silky texture and pore-blurring properties to skincare benefits…all at an affordable price! Just so you know, it is a silicone-based primer so this may not be right for you if you tend to avoid silicones in your makeup/skincare products.
Formula 10.0.6 Night Work Vitamin A Renewing Retinol Sleep Mask ($15)
This overnight sleep mask combines sustained release Vitamin A (Retinol) with a potent peptide complex, Vitamin C and E, pomegranate extract plus a bunch of other moisturizing ingredients to replenish and enliven your skin.
The star ingredient here, of course, is retinol, which is well-known for its anti-aging benefits. It doesn't seem to be present in a very high concentration in this product (retinol is listed somewhere in the middle of the ingredient list) but even lower amounts of retinol are still effective at improving the appearance of fine lines & wrinkles. So, this is actually a good option even if you're new to using retinol!
Although called a mask, this has a lightweight lotion texture that sinks into skin quickly without leaving any residue behind. It applies and feels like a lightweight moisturizer and is suitable for all skin types.
The directions suggest to apply a thin layer over clean skin and leave on overnight. It can be used 2-3 times per week, on alternating days, based on your skin tolerance to retinol. I have been using it thrice a week and haven't experienced any irritation or sensitivity (my skin is not new to retinol though!)
I like the gentle and hydrating formula that contains several other beneficial ingredients like antioxidants and peptides in addition to retinol. If you have been looking for a new retinol product to add to your skincare routine, this mess-free mask is a great option at a price that's nice!
Bottom Line
The new Formula 10.0.6 Vitamin Collection definitely needs to be on your beauty radar! I highly recommend checking out this new drugstore skincare range with high-quality and effective products, minus the hefty price tags.
Formula 10.0.6 Vitamin Collection products are available for purchase in stores and online at Ulta Beauty and formula1006.com
Shop this post…